Pamalinsky

Our dear leader wants us to "compromise" i.e. "Do it my way, or the highway!"

EMBEDDED VIDEO NO LONGER AVAILABLE

Our darling, Aretha Franklin speaks in our behalf!

Such a darling girl. I've been saying this for years! No one seems to care.


Krasnodar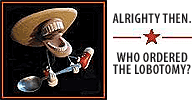 COMPRIMISE
LIKE
S T A L I N !

Ivan the Stakhanovets

ooh, look, she's added a POLL since this afternoon!


Pamalinsky

Hey Tovi and Kras,
I didn't add no damn poll! I never do! Fact is, I don't know how to do it.
It's other "well-meaning" Comrades, (Stalin only knows who they are), trying to tell me to stop posting videos as "new posts." They do it on every "new post" video I post.
They leave me alone when I post "original" things that don't contain videos unless it contains considerable verbiage justifying the use of said video.
I get the message.
Frankly, I agree with them.
In my case, it's a lazy way to get votes by appealing to the "emotional thingy" in people.
I am quite capable of writing very "cutting-edge" stuff, such as:
Boehner, The Turd Burglar. This is major editorial stuff!
https://thepeoplescube.com/peoples-blog/boehner-the-turd-burglar-fighting-back-tears-re-elected-t10470.html