Komrad Spezial K

Stop the White-Supremacist Patriarchal Hegemony over auto part nomenclature NOW!
ALL cylinders must be equal! Even if it means your car won't stop.
On behalf of the Alexandrea Ocasio-Cortex - Orange Man Bad Intersectional Coalition, we remind you that the automobile parts -- even the very parts in your precious Prius -- were named by RACIST, HETEROSEXUAL, WHITE MALES!

Red Square

And just in time for this inspirational post:
NAVY: Carrier forced into early retirement after being exposed as maritime supremacist
WASHINGTON — Pentagon officials confirmed today that their announcement calling for the unexpected retirement of USS Harry S. Truman stemmed from shocking revelations of the aircraft carrier's dark history as a maritime supremacist.
"I think it's safe to say with a namesake like that [Truman], it was only a matter of time before another N-bomb was dropped," said acting Pentagon press secretary Charles Summers, Jr. "The Department of Defense has zero-tolerance for supremacist ideologies."
The Nitmitz-class supercarrier, who planned on maintaining freedom of the seas for at least twenty more years, was forced into early retirement after allegations of its unchallenged power projection made national headlines. It remains undetermined whether said power was black or white, but defense officials fear it could be haze grey power, boding poorly for future surface combatants seeking to establish a forward presence across the globe.
MORE >>
https://www.duffelblog.com/2019/03/carr ... premacist/

Konservative_Punk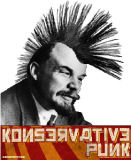 Komrad Spezial K
ALL cylinders must be equal! Even if it means your car won't stop.

How right you are comrade. Let us not limit this purge to automotive nomenclature when there is so much inequality in technology and elsewhere.