ThePeoplesComrade

Flush from the people's propaganda success of hurricane Sandy, President Obama seeks to solidify his legacy, Helper Of The People. This pervasive pied piper of ubiquitous helpers now appears everywhere:
He helps in a chair,
He helps with his hair,
He helps with a flair ...
He helps everywhere.
--Dr. Snoose

Anyer Marx

Riff Raff Hussein ... He's a handyman!

TheLastCapitalist

What a guy! He works so we don't have to!


Sugar Daddy Bear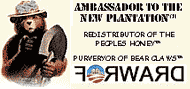 Is that MOO-chelle all "dolled up" standing next to Caesar O'bama? Those arms sorta gave it away.