Red Square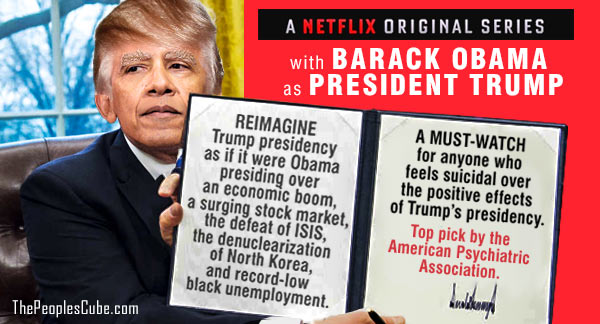 As we have reported
earlier
, streaming giant Netflix has entered into a multi-year agreement with Barack and Michelle Obama to produce films and TV shows, including scripted series, unscripted series, docu-series, documentaries and features, but until now the content of these shows remained a mystery.
Today the Board of Directors has announced that Barack Obama will play the part of Donald Trump and Michelle Obama will play Melania Trump, a former nude model.
The decision came after difficult deliberations and soul-searching, but the data collected in numerous inside polls and focus groups indicated that most Netflix subscribers would rather watch Trump than Obama, and would rather see Melania on their screens than Michelle.
"I love Barack dearly and I used to be his national security advisor," said Susan Rice, who has recently become a Netflix board member. "But now that I'm working in the private sector, I've come to realize that a corporation's first goal is to make money, and my money is on Donald Trump. Turn on your TV and all you will see is Trump all the time. He attracts all demographics regardless of their party affiliation. The fundamental transformation of America will have to wait."
Rice's comments were seconded by Ted Sarandos, Netflix's chief content officer.
"Surely we were hoping that the new series would continue to propagandize Barack Obama's ideas about transgender equality, redistribution of wealth, and environmental justice," said Sarandos, who has donated to various Democratic causes, including the presidential campaigns of Obama and Clinton. "But what would be the point if no one watches it?"
"Our shareholders expect us to generate profit," Netflix's chief content officer added. "We would be nothing but frauds and ideological hacks if we used their assets to promote ideas that can potentially destroy our business. But since we've already signed a contract with the Obamas, we've found a compromise between profit and ideology. If our subscribers want the Trumps, we'll give them the Trumps, but they will be played by the Obamas."
Despite initial fears, the former President and First Lady wholeheartedly accepted the idea to play the Trump couple. According to their family psychoanalyst, Barack Obama is already fond of taking credit for Trump's successes. Taking credit for the entire Trump term - presiding over an economic boom, a surging stock market, the defeat of ISIS, the denuclearization of North Korea, and record-low Black unemployment - would be a dream come true.
"As a mental health professional, I can only encourage Barack Obama to reenact a more successful presidency and experience all the positive things that never happened during his own term. That would go a long way to relieve his current level of stress and anxiety caused by positive domestic and international developments," he said.
"The same applies to Michelle, who for eight years as First Lady acted as if she were a fashion model, but could never become one for obvious reasons," added the Obama therapist. "Her brave decision to become Melania and perform the nude scenes without body doubles is expected to have a miraculous healing effect on her self-image."
_________________
Special thanks to Comrade Chernobylsky for the original concept.

$.$. Halliburton

I really wish those two would quit jerking off in public.


Comrade Whoopie

Red Square

"The same applies to Michelle, who for eight years as First Lady acted as if she were a fashion model, but could never become one for obvious reasons,"

Clara Illbustyourballs Zetkin
Quote:
and Michelle Obama will play Melania Trump
I don't know about that Komrade Direktor. Somehow that casting just doesn't fit the frame.
Case in point.

Red Square