Captain Craptek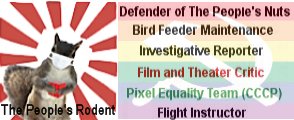 Once again, comrades, The People's Cube leads the way to Next Tuesday!™ How long have we toiled in the fields cultivating and tenderly caring for The People's crop? For decades we have proclaimed its wondrous, no, magical power to protect us from the bone chilling cold of the Gulags. At long last our message has broken through to the outside world. Behold:
CTV Toronto Jan 7, 2014 -
Across the city, Toronto salt trucks are working with an usual recipe for keeping streets clear of ice. When temperatures dip as low as they are now, sodium chloride typically used as "road salt" can freeze. That means the city has to look for alternatives.
Beet juice is one, as it works at temperatures where salt brines are no longer effective. Over the last five years, city salt trucks have used a sugar beet by-product mixed with traditional rock salt when the temperature dips below -20C.

Ivan the Stakhanovets

I and my kollektive have been using distilled beet (and beet by-product) for years an an antifreeze compound and/or aperatif...


Red Square


Krasnodar