Karl Marx Treatment Center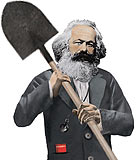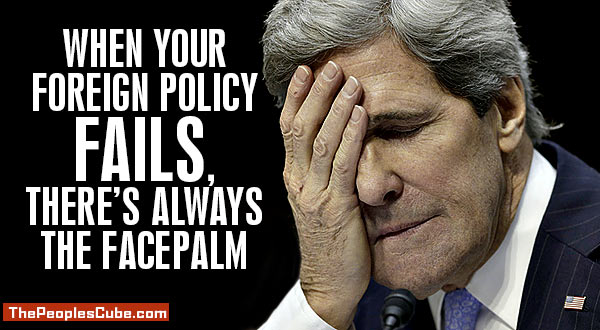 "
A ferocious assault on Aleppo suggests the U.S. may be wrong on Syria
," reads the headline. John Kerry's cease-fire agreement is already in shreds, dying in the ruble. [sic(?)]
It takes no insight whatsoever to know that when John Kerry negotiates an agreement the agreement will be a third rate stage act. Why is this so? John Kerry has no brains. None. Zip. Nada. He makes a perfect addition to Barack Obama's administration.
The Karl Marx Treatment Center thought that in these dark days, so reminiscent of the cluelessness of the world leaders of the 1930's, it would make for some light untaxing entertainment to enjoy some of John Kerry's quotes:
Years ago when I left college, I went to war. And I learned in war the price that is paid when diplomacy fails. And I made a decision that if I ever was lucky enough to be in a position to make a difference, I would try to do so.
John Kerry, on finalizing the Iran Deal

How do you ask a man to be the last man to die in Vietnam? How do you ask a man to be the last man to die for a mistake?
John Kerry, Testimony before subcommittees of the U.S. Senate, April, 1971

We must recognize that there is no indication that Saddam Hussein has any intention of relenting. So we have an obligation of enormous consequence, an obligation to guarantee that Saddam Hussein cannot ignore the United Nations. He cannot be permitted to go unobserved and unimpeded toward his horrific objective of amassing a stockpile of weapons of mass destruction.
John Kerry, Speech to the floor of the Senate, Congressional Record, 11/09/1997

If Saddam Hussein is unwilling to bend to the international community's already existing order, then he will have invited enforcement, even if that enforcement is mostly at the hands of the United States, a right we retain even if the Security Council fails to act.
John Kerry, New York Times op-ed, September 6, 2002

We need a new approach to national security - a bold, progressive internationalism that stands in stark contrast to the too often belligerent and myopic unilateralism of the Bush Administration.
John Kerry, Remarks at Georgetown University, January 23, 2003

If you don't believe...Saddam Hussein is a threat with nuclear weapons, then you shouldn't vote for me.
John Kerry, USAtoday.com, February 11, 2003

I actually did vote for the $87 billion before I voted against it.
John Kerry, San Francisco Chronicle, March 21, 2004 pE2

We have an electorate that doesn't always pay that much attention to what's going on so people are influenced by a simple slogan rather than the facts or truth or what's happening.
John Kerry, September 27, 2010

So my judgment is that Syria will move; Syria will change, as it embraces a legitimate relationship with the United States and the West and economic opportunity that comes with it and the participation that comes with it.
John Kerry, Speech at Carnegie Endowment for International Peace, 03/16/2011

What we saw in Syria last week should shock the conscience of the world. It defies any code of morality. Make no mistake, President Obama believes there must be accountability for those who would use the world's most heinous weapons against the world's most vulnerable people.
Syria chemical attack undeniable, says John Kerry, August 26, 2013

Now, I know there are still a few who insist that climate change is one big hoax, even a political conspiracy. My friends, these people are so out of touch with science that they believe rising sea levels don't matter, because, in their view, the extra water is just going to spill out over the sides of a flat Earth.
John Kerry, December 9, 2015, Paris.

Perhaps the media would do us all a service if they didn't cover it quite as much. People wouldn't know what's going on.
John Kerry on terrorism - Press Availability in Dhaka, Bangladesh (29 August 2016)

While campaigning in Wisconsin, Presidential candidate John Forbes Kerry pretended to be a Green Bay Packers fan:
"You're looking at the biggest cheesehead in America. Here I am."

After the closing of the Republican convention, Presidential candidate John F Kerry struggled with counting: "I have five words for America: This is your wake up call."
John Kerry, September 3, 2004

"I remember Christmas of 1968 sitting on a gunboat in Cambodia. I remember what it was like to be shot at by Vietnamese and Khmer Rouge and Cambodians, and have the president of the United States telling the American people that I was not there; the troops were not in Cambodia. I have that memory which is seared -- seared -- in me."
John Kerry, numerous times until finally called on it

Minitrue

https://www.youtube.com/watch?v=ndI9vkgw_1Y
Member when politicians had balls and brains?
Oooh I member!

General Confusion

The truth about John Kerry. He was in Vietnam long enough to cut himself shaving three times, invent stories about how it happened in combat. Awarded himself three purple hearts and went home.


Red Square

Another quote Kerry may or may not have said out loud, but he surely has said it to himself many times over his cartoonish career:
"I should've known the Earth was too stupid for my brilliant plan to work."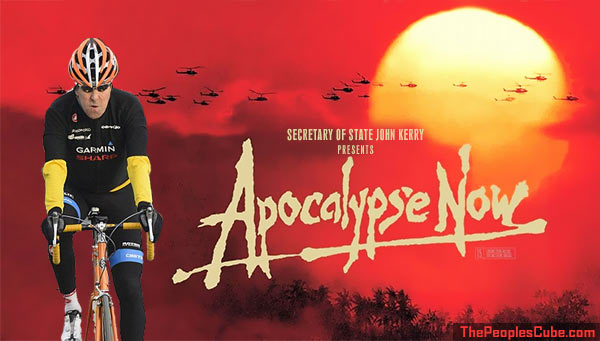 Red Square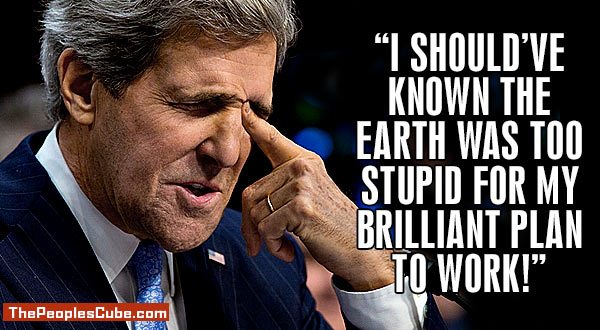 Apparatchik Unkulturny

Let's Just Face The Facts:

WAR-HERO Jean Effin' Kerrie
has
ALWAYS
been
so far ahead of History
(
which must be dismissed & forgotten, As Soon As Possible
), that His
Gigantic Heart
is
Simply Broken by What-Might-Have-Been
, if
only
he had been elected
President
in
1972
after he had firmly established his
Heroic War Record
- or even in
2004
!

Captain Craptek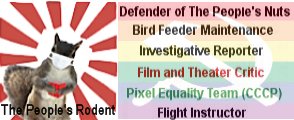 Well, at least he got one thing right - quote John (pass the ketchup) Kerry: "You're looking at the biggest cheesehead in America. Here I am."