Kommisar of Fatwas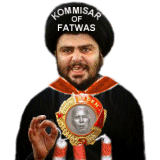 Britainistan Bans Atlas-Shrugs Pam Geller and Robert Spencer
Comrade Enemies of My Enemies,
As proof of our progress together as a Collective of Convenience joining Progressives and Islamists against our Common Enemy, the Great Satan and the Little Satan, we have bullied the previously unbulliable Brits into
barring entry into the UK by the Unprogressive Islamophobes Atlas Shrugs a.k.a. Pam Geller and her sidekick, Robert Spencer
, while at the same time, our scholarly leader,
Sheikh Abdullah bin Bayyah (PBUH) is hosted by the United States National Security Council
while our Chinese and Russian protectors take turns hosting the Heroic Traitor, Edward Snowden, whose "transparently clandestine" work on our behalf continues generating news distracting American LIV's attention from President Obama's solid work on behalf of collectivism through IRS targeting of counter-tranformational groups, EPA downsizing the evil capitalist machine and depriving it of energy, ObamaCare "Navigating" Americans into Progressive Health Care Mandates and Restrictions on Extravagant Medical Care, Progressive Re-Education of American children and youths, Sequestration of American's Military Machine, the Labor Department micro-managing America's corporate structure, the EPA accelerating the destruction of Americans' recent-vintage motor vehicle engines by mandating a 50% increase in ethanol in gasoline, enlarging the dependency class and thereby shrinking the
bourgeoisie
, restricting the Second Amendment "rights" of the Reich-Wing Gun Nuts, Readying "Universal Background Check of Mental State of All Americans" seeking means to exercise self-defense,
etc
.
Comrades, we are WINNING! Just think-- soon we will have utterly crippled the West, and then you Progressives wil see the wisdom of surrendering to our Caliphate as what you deem a much better fate than to be left to the political mercies of those soon-to-be-vanquished Tea-Partiers.
--Kommisar of Fatwas

Expel The Red States
Thank you Commietsar, a two paragraph cliff note of our reality.


Fraulein Frankenfeinstein

These peoples are subversive to the Peoples Cause of Non- Subversiveness and should be gulaged. But perhaps Gitmo would be better and then could inter act with peaceful mooslimics (and we'll see how they like that!!)


KOOK

The Infidel, Pat Condell, speaks about Britain's banning of Atlas Shrugs Pam Geller and Robert Spencer from entering Britain:



--KOOK