Leninka

In an exclusive interview at the Rancho de Rio near Pecos, Texas, Bruno admitted that she, too, has had a longtime affair with Tiger Woods.
"Actually, our affair started long before Tiger was married, and he wasn't the only one who kept secrets. He thought I was a real girl the first two years of our relationship. It was back during the Lewinski years, and I wanted to make him feel well, er, presidential, if you know what I mean."
When Bruno was asked how it was that Tiger found out he was really a transvestite, the petulant and coy Bruno stated, that one evening in a state of complete abandon and inebriation, I let it all hang out. It wasn't just that we were intoxicated,"said Bruno, "I had a gut feeling that Tiger would still accept me, and he did."
Bruno, pictured below at the
Rancho de Rio
when he and Commissar Theocritus were hosting Perez Hilton and Nanski Peloski, spoke very candidly throughout the interview.
"I have nothing to hide," she said. But their relationship has had its rocky moments.
"When I found out he was getting married to Elin, I didn't speak to him for two years."
When asked what brought them back together again, Bruno stated "I have a weakness for jeweled cell phones, and he gave me a phone covered in tiny diamonds. I was overwhelmed. I couldn't help it. I had to take him back."
As for the status of Bruno's current relationship with Tiger, Bruno said, "I am furious with him right now. He told me that I would be getting a new diamond bracelet from Zales, and do you see a new bracelet on my wrist? No. It's not there, is it?"
So, for now, whether or not Tiger and Bruno, known to some as the Harlot of Pecos, will resume their relationship is anybody's guess.

Father Prog Theocritus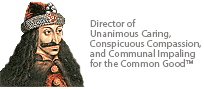 Oh. My. God. I have lain in bed since the news came out, prostrate with grief and disillusionment.

Now I know that I have tried to get rid of Bruno over the years, telling him that the Koh-i-Noor diamond was seen in North Dakota. I gave him a bus ticket and put him on his way. When he came back I told him that Streisand had come out of retirement, and gave him a bus ticket.

But to be cheated on by Bruno with a gofer?

But there is one question: if Tiger Woods is married to a Swedish model, isn't having a fling with Bruno just about 100% proof that he needs a guardian?

I'm just saying.


Leninka

A man's taste can range from the exotic to the Bruno, don't you know. After all, variety is the spice of life. And Bruno, really, is the most perfect of mistresses. Her demands are simple, and for Tiger, really, a bargain.

However, I did hear that Bruno did throw a fit or two if Tiger didn't come to each hook up date with a fresh bowl of fruit. And I hear Tiger didn't mind Bruno dancing the Tico Tico one bit. Rather, he considered it quite amusing.


Father Prog Theocritus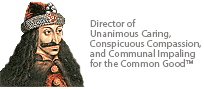 I have learned that Tiger would practice his swing trying to bounce balls off Bruno's headdress. Now this seems to mean that Tiger thought that the greens would shake and shimmy like Bruno, but still, it must have worked wonders for his hand-eye coordination.


Leninka

And this explains a lot about why Bruno is cross-eyed. I also suspect that Tiger may have something to do with how the top of Bruno's skull comes to a point. And, what this tells me, is that no matter what Tiger or Bruno say in public, their relationship will likely continue, so be prepared, Comrade Theo. It seems to be one of those "love that never ends" kind of relationships.


Father Prog Theocritus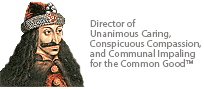 If Tiger didn't have so much more money than I do, I'd bribe him to take Bruno away--far, far away.


Leninka

Well, for now, you can at least dream, Comrade Theocritus. Just think, Bruno, far out in the ocean on Tiger's yacht, wearing stilettos, or mules, depending on the occasion, or docking at South American ports to purchase fresh fruits, or new purses. Bruno doesn't get sea sick, I hope. Oh, well, Dramamine would take care of that.