Red Square

This idea came up a few weeks ago on
Mao's Kitchen
thread and just waited for its time...
The Children™ delight in facilitating Chairman Mao's appreciation of cultural diversity.
Anchor Baby…it's a Right!
Whenever different cultures hold the same values about class struggle
it's another leap forward for the Revolution™
___________
Special thanks to Biff Henderson for his most equal contribution of pixels.

Hammer and Loupe

Today we celebrate having five mayonnaises by filling ourselves with our drinks and wearing sombreros. It is a great day since we will take a break of hard labor and take a day of siesta. We all shall grow the Pancho Villa mustaches, since it is written that on this day, our comrade Francisco Madero, drank a trough of margaritas. Or was it just tequila?
How did five mayonnaises come about? The same could be said about celebrating the day. Who knows? We all care that people just like to wave the Italian flag and drinking till things get whirly, but not always in that order.

Comrade Biffinaditch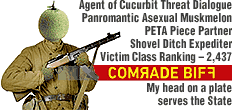 Red Square

Biff Henderson
Happy thanks kneeling praise object