Opiate of the People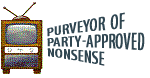 A PICTORAL LOOK BACK AT THE PARTY'S FIRST YEAR OF LEADERSHIP! WE ARE THE ONES WITH

ALL

THE GREAT IDEAS!!!!!
Comrades, though it has been a GREAT first year, there is lots more to come. This is only the end of the beginning!!!

Fraulein Frankenfeinstein

I hate to say, but anyone else think Waxman looks like a pig?
Guess there's at least one....
The beginning of end is more like it (oops) . . . . heil our great Leader Obamski!

Comrade Whoopie

Thanks to Chairman Obama I've never felt such a sense of righteous victimhood. Thank you dear Leader, for the first time in my life I'm proud to be a white male.