The Ghost of Red Rooster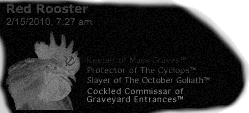 Dear Comrades,Proles, and People of The Party!
In my People District™ there is grave concern about celebratory bullets striking proles! With these current concerns of The Party™ and the current crisis of ALL THINGS!... we ask you to please not fire celebratory bullets this hegemonic, racist, rapist, 4th of July!!! Or else!
Here is quote from semi-proper protocol, we will be back with FULL protocol after the incident has occured!!!:
"Unlike in the cartoon universe, anvils don't fall from overhead in the real world. We don't expect them. Or bricks, or bullets, or anything but rain and snow. We don't know anyone who has been injured by an anvil falling on them. We have no prior history with the Acme product line. So most of us would likely consider being struck on the head by an anvil a freak accident. An act of God. Bad luck.

Freak accidents and acts of God are generally considered to be unlikely events that we could not have predicted, controlled or prevented. For example, what are your odds of being struck by a falling bullet that was fired straight up into the air? Let's break it down.

What goes up must come down, right? What goes up: A bullet fired from a Kalashnikov rifle leaves the muzzle traveling faster than 1,500 miles (2414 kilometers) per hour. What comes down: If that bullet is shot straight into the air it would be traveling at about 150 miles per hour (241.4 kilometers per hour) as it falls to the ground -- you can thank air resistance for slowing it down -- and would hit the ground, or your head, with the same amount of energy as if you were struck by a brick (or an anvil) falling from about 4 feet (1.2 meters) above you [source:]. Bullets falling at 68 mph (109.4 kilometers per hour) easily penetrate the skin, and those that are traveling at least 136 mph (218.9 kilometers per hour) may penetrate bones, as well as cause internal injuries or death [source: Maugh]. The likelihood you'll suffer an accidental injury from a firearm discharge in your lifetime? Just shy of 1 out of 6,000 [source: National Center for Health Statistics].

Dodging bullets shouldn't be your only concern, though. Circumstances such as being struck by lightning (your odds are about 1 in 10,000 in a lifetime), being struck by a meteorite (those lifetime odds are about 1 in 700,000) and being injured by a vending machine (you may be surprised, but vending machines get about two or three of us every year) are also examples of freak accidents, as are events such as Hurricane Katrina and other natural disasters [sources: NOAA, Plait].
Do you know your odds of being injured or killed at an amusement park? We do, and we'll roll out the numbers next, along with how the pros calculate those odds."
Please let your people voice be heard! If you are struck by a kapitalist bullet, please let your next of kin report!
Party Dispersion from Red Rooster as aligned.
Be Safe,
Red Rooster
(Ahem: GHOST!)

jackalopelipsky

We must sue the manufacturer of the falling bullet because the tax payer pays the costs both ways.

And then frame Rethuglican gun right advocates for defending their right to thoughtlessly fire loaded guns and rifles in the air like fireworks...walkin' down main street on opiods and like where everything is just Das Capital... and then an opiated guy just starts firing off at the lights of civilization ...blam...and then the next thing a comrade knows it's all happenin' again at The O.K. Corral.

Well, Ghost of... if 'O.K.' ain't a fringe dog signal for Anti-Trumper Rethuglican fringe that can be manipulated in a 'resistance' frame-op to stop Trump and his diabolical plot to Make America Great Again. We can leak our anonymous narratives to the local press and reduce Trump's currently elected Rethuglican support. Get the Rethuglicans circle jerk shooting each other and the numbers of Rethuglican votes these Anti-Trump Rethuglicans can force at wallet point to take with them will reduce voters for Trump and his whole TPC Red Revolution 2020 takeover. Obama-Kapitalist Pigs think they control The Party.

'pelipsky just gets all kinds of excited when that dogma knife slices both ways like though prime rib medium rare.

Let's all watch the Mt. Rushmore Trump sendoff again!! Lots of Fireworks goin off inside the Capitol we don't get to know about.

'pelipsky


Ivan the Stakhanovets

During my last
invasion of
visit to Baghdad, my duties in the Green Zone kept me in reasonable safety...my concerns were the sunrise rocket attacks and celebratory fires caused by a win by the Iraqi football (soccer) team.

Clara Illbustyourballs Zetkin