El Presidente

Following the admission by US Central Command that the drone strike of August killed 10 innocent people including seven children, allies at CNN continued to report the true fact that indeed the now infamous Joe Biden retaliatory strike was without a doubt a resounding success.

El Presidente


Minitrue

Every execution in the name of the revolution is a success!
"To send men to the firing squad, judicial proof is unnecessary. These procedures are an archaic bourgeois detail. This is a revolution! And a revolutionary must become a cold killing machine motivated by pure hate. We must create the pedagogy of the paredón [execution wall]."


We executed many people by firing squad without knowing if they were fully guilty. At times, the Revolution cannot stop to conduct much investigation; it has the obligation to triumph."


― Che Guevara

Kapitan Kangaroo Kourt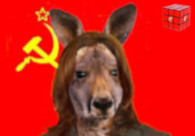 Ah, yes. The modern equivalent is Cancel Culture and "unvaccinated" banishment. Not quite as abrupt but certainly as effective. Much like Comrade Stalin's starvation of Ukraine. We don't need to know if people are fully guilty or not at all guilty. We just need to send a message: Comply or die.