Leninka

Comrades,
Back in 2007, in an interview with Charlie Rose, Comrade Nanski Peloski stated:
". . . all paid for, because our new direction is pay go, no new deficit spending, fiscal soundness, and keep your promises ... "
In other words, no matter how large the stimulus package was, Comrade Nanski is a believer in no new deficit spending. She said so on Charlie Rose's show, and I know Charlie believes her, too.
Here is the interview. She makes the above glorious statement right after the 29 minute mark.
If you can't get to the 29 minute mark from the view below, you can go directly to the original web page by clicking
HERE
EMBEDDED VIDEO NO LONGER AVAILABLE

Leninka

Here is another video where Comrade Nanski blames the Rethuglicans for irresponsible deficit spending. They are the opening words of her speech at the Progressive Convention.




Red Rooster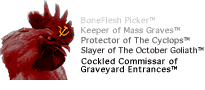 [center]
Laika LOves Nansky!
She has the best tinfoil hat, I am like soooo jealous![/center]