KOOK


Red Square

As we said before -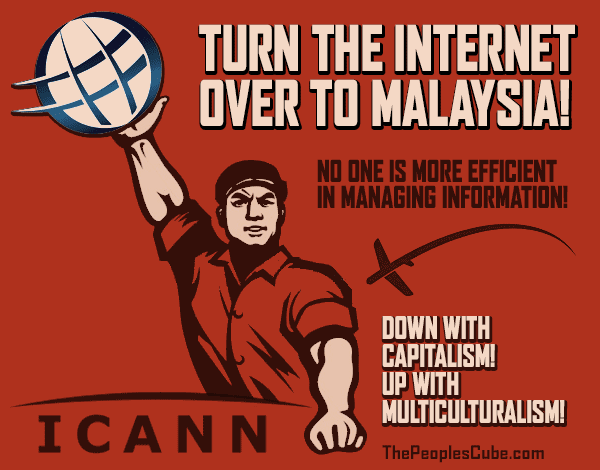 Krasnodar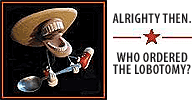 C.K.
Indeed, the House and the Senate have had the power stop Obama surrendering the Internet.
We also know that
Congress can be counted on to fold faster than a Hallmark card.
Krasnodar
Vagabond of the Outer Parts
Minister of Spirits Distribution

Comrade Stierlitz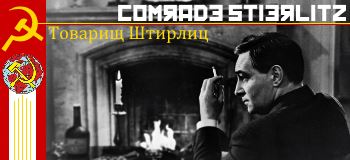 [OFF]

I thought that the Saudi Arabia suing bill was rather useful. Distract the people from this and obliterate our national sovereignty at one time. That's a double-win for Obama. And it had incredible bipartisan support. Haven't all the laws that screwed us over the past 15-20 years had bipartisan support?


Captain Craptek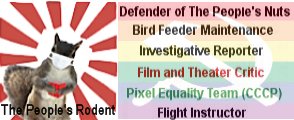 Comrade Stierlitz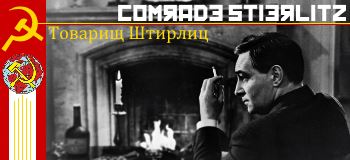 [OFF]
I've been reading some discussion of this on another board and that discussion has helped me to glean some information. Information that I needed to make a well-balanced post about this.
As it stands, and put simply, ICANN's DNS is just one huge-ass table. A table with a textual web address, such as thepeoplescube.com, and an IP address, such as 50.62.48.1, which is the IP address of the server that hosts thepeoplescube.com. When you type in the web address, your browser goes to the routing table, looks for that address, and if it finds it, it goes to the matching IP address. If you don't believe me, copy and paste this into your address bar:
http://65.97.58.16/
and you'll be taken to the Drudge Report.
ICANN has been selling spots on this table ever since the nexus of the modern internet. So the US has NEVER been in charge of the DNS routing table, but ICANN has.
One could say that this over-reliance on the ICANN table has created stagnation, and I believe that it may have. Indeed, the Wikipedia article on Top-level domains reads:
ICANN's slow progress in creating new generic top-level domains, and the high application costs associated with TLDs, contributed to the creation of alternate DNS roots with different sets of top-level domains. Such domains may be accessed by configuration of a computer with alternate or additional (forwarder) DNS servers or plugin modules for web browsers. Browser plugins detect alternate root domain requests and access an alternate domain name server for such requests.


The article on ICANN itself reads:
Steve DelBianco says that businesses are "very concerned about what they consider extortionist pricing." Canadian brands had complained that they were being charged "exorbitant" prices to register their trademarks as premium names. FTC chair Edith Ramirez has written to ICANN to say the agency will take action against the .sucks owner if "we have reason to believe an entity has engaged in deceptive or unfair practices in violation of Section 5 of the FTC Act".[100] The Register reported that intellectual property lawyers are infuriated that "the dot-sucks registry was charging trademark holders $2,500 for .sucks domains and everyone else $10."[101]

ICANN simply seems to be a monopoly, these high prices and shit service are the hallmarks of a monopoly. However, as the 1st excerpt says, many other projects have sprung up boasting alternate DNS routing tables and much better service. The most popular I have seen is OpenNIC. And from what I've read OpenNIC doesn't charge huge prices, but will allow you to register a domain name on their servers for free. Only bad thing is that the only way for people to see your webpage is to edit the OpenNIC DNS servers into their computers.
However, some other people I have read about think that the threat of DNS censorship may force the internet to evolve from a server and client-based model to a peer-to-peer model, in which the webpages you visit would be stored on your and many other people's computers and whenever somebody wanted to visit that webpage, it would look for it on other people's computers and get it from them. And if you're wondering if this would work the Torrent method of file transfer has used this for years, a decade or more, and I can confirm that the Torrent method not only works, but is much faster. I can download a Linux distro in a half an hour with Torrent, but the same distro takes an hour over the browser!
The client-and-server model has been used for ages, heck, even old Bulletin Board Systems ran off the same principle. And I'm thinking that the second model might be more resilient to censorship; Instead of having one book in the library that everybody copies off of everybody has a book. And if yours gets taken from you, you can just copy off another one from other people.
This second model, the torrent-esque model, is currently being tested in the form of Freenet, which is exactly as described above, and made with incredible privacy in mind. If you have any friends that use Freenet, you can connect solely through them and essentially obfuscate yourself to the point where the level of privacy can be really quite amazing. I have used Freenet and, while it is very slow, I think that it just needs time to grow.
Furthermore, from my research it looks as if ICANN and IANA, the former steward of the DNS table, were both headquartered in Playa Vista, CA. This makes me wonder if they were in the same building or not. However, if you are worried about IP addresses, the IANA, which is an American and not International firm, still controls IP addresses.
And another bit of discussion that really opened my eyes a bit was that the UN had zero control over the internet because so much traffic passed through the US and that the UN didn't own any of the infrastructure, the telecom companies did. And apparently your internet company can censor any page they want.
One thing that I've learned in my many years on the internet is that you simply can't control it. It's like jell-o, if you try to squash it it simply just goes off to the side. If you hit it it jiggles around but mostly stays in the same place. If you poke your finger in it, it just parts and then goes back together again. And if it does go somewhere else, it doesn't care one bit. It just keeps on keeping on, and if the pirating websites demonstrate one thing, it's that governments are completely inept and useless whenever it comes to internet control, short from total Chinese firewall levels of control. The Pirate Bay has been shut down a good handful of times, yet it still comes back, and people from other countries have hosted copies of the TPB on their own servers. Taking down websites is like whack-a-mole - punch one down and three more pop up!
Ultimately, I think we'll just have to give this time and see how things pan out. It might be as big as total internet censorship, it might be as small as Carter giving the Panama Canal over to Panama. Right now we're getting off the emotional reaction to it, and I think that time, effort, sober and frank analysis, and careful study would be required to figure out a suitable attack plan if we do need to start switching over to alternate methods.