Superkommissar Maksim

She's not Warren Buffet's secretary. But she is smart enough to know, when you are in the tax shelter business, advocating for higher taxes on your rich clients is not only shrewed, it's crony capitalism.

Red Rooster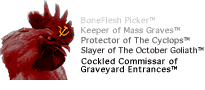 Ahhhhh... we have the same color hair. Now I must go self-criticize to remove fowl thoughts from my bird brain.
One Jiffi-Lobo™ please!!!
(Where is stout and strong Soviet Babushka when you need one?)