Red Square

Denmark is no longer America's ally and needs to be purged! How was this video allowed to be made or exist on YouTube? Where was the Commissar of Media Blackouts when this happened? Heads will roll!



This is clearly a punch below the belt, right into the area where Barack's testicles could have been if Michelle hadn't borrowed them twenty years ago and never returned! Now repeat after me: "Obama never said those words. Obama is smart. Obama is good for America. Obama is the one we've been waiting for. Obama will redistribute America's wealth equally among all the planets of the Solar System. Hope. Change. Hope. Change. Regime change. Regime change. Regime change in Egypt. Regime change in Libya. Regime change in Denmark. Iran is our strongest ally."


General Confusion

it is difficult for the most brilliant man in the White House to disarm our enemies by acting like to complete frickin' idiot.


R.O.C.K. in the USSA

Denounce. Denmark is officially Fluked.

Opiate of the People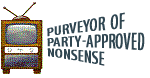 All countries "punch above their weight." President Obama also "punches above his intellectual weight" and he is clearly a featherweight in this regard.


Radio Retrograd

Oh dear, it was my fault Comrade Square. No excuses, but I was distracted by the new circus in The Meadowlands, known as Tim Tebow-mania. I will report to the train station with my shovel and no clothes as special punishment.


Red Square

A reader named Reaganite 71 made a remix of the Danish video: