Panem Et Circenses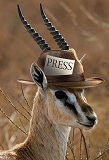 Arlington, VA -- DARPA - the US Army's Defense Advanced Research Projects Agency - revealed today it has been developing scandal-proof force-field generators since the early 1990s. The devices create a nearly scandal-proof barrier around the wearer that many politicians say they can't live without.
Bill Clinton wore the earliest 'Mark I' prototype version which offered limited scandal resistance, but was nonetheless effective enough to earn him the nickname 'slick Willy' during his years in office. That early version required either a bulky generator or had to be connected to a wall plug. Initially, his secret service detail would wear a backpack with the generator in it and a small, inconspicuous cable would connect President Clinton to the power source. When his protection detail started complaining that the generators were impacting their ability to keep him safe, they switched to interns wearing the backpack. That is why you usually see a young woman near him in photos and videos - the generator had to be within an extension cable length at all times.
The cable was replaced in 2003 with advanced Lithium-Ion batteries and his wife Hillary has been wearing the device since then. She reportedly never takes it off.
DARPA has continued to improve the technology, getting generous funding from congress every year. Joe Biden and his son Hunter both wear the latest "Mark VI" version. DARPA has publicly stated that the Biden family is the ultimate field test of scandal protection. As the project manager said recently, "Anything that can protect that family from scandal after scandal is robust, reliable technology that is 100% ready for fielding."
A civilian version based on similar technology has been available since 2007. Jacob Crust is the CEO of a company that makes an expensive consumer grade version called "the Slurmaster 2000" that is popular in the entertainment industry.
Mr. Crust points out the examples of singer Morgan Wallen and singer Billie Eilish to prove the effectiveness of the device. "Both committed the very worst crime imaginable: they used a racially derogatory term. Mr. Wallen's managers have been asking him to wear one for the last few years, but he complained that they were bulky and needed to be recharged at inconvenient times. (We're working on both of those problems, by the way.) When the shocking recordings of his behavior were released he was done - his career, contracts, everything. He can apologize all day long but it doesn't matter - he might as well crawl in a hole somewhere and never come out again."
He continued, "Now look at Billie Eilish - same exact situation a month or two later. But the difference is
she wears the device
! (Most left-leaning people in the public eye do - they're smart) Ms. Eilish issued an apology and everything is cool - no scandal, no lost contracts, nothing. They still play her songs on the radio! (A little too much, if you ask me.) Some people think this is hypocrisy, but it isn't. Our device is just quietly doing its job."

Genosse Dummkopf

By Doppelganger-Dummkopf!
Would be elucidating to know which model our
Große Vorsitzende
(Great Chairwymx) got installed. One thing is clear: it must haf been in 2010. Until then (and: since 2000 head of our "GOP", since 2005 Chancellrx) xzey appeared a reasonably acting – and right of center – pol (serial "GOP"-intern foul play included).
Yet in 2010 BIG lawless steps – on EUSSR level first – started. Since then it became routine (EUSSR-level as well as Chermany-intern; laws turned out to be fair-weather constructs; weather worsens, law is kicked aside). Called – seriously! – to account, Ma'ymx M would haf to either stop or step down. But
there
'
s
the rub: no (serious) calls to accountability, neither "intern" nor "by electorate".
No way, M
must
haf DARPA's 'Merk X' or sumptin.
P.S. Good to remember: M (*1954) spent xzep life until the 1990 reunification in the DDR paradiso. And xzeq entire youth was the Doppelganger-Dummkopf era.