Kommissar Brainiac

As part of Dear Leader Comrade President's efforts to punish all neo-kulaks and others who may want to use what used to be the people's national parks, anyone residing on federal land has been ordered to evacuate and businesses located there must close as well.
With that phase nearing completion, Dear Leader Comrade President has issued an executive order to start evacuating all animals from the parks as soon as possible. They will start with larger animals and livestock, but we will eventually move all insects off the land.
They want to try and have this complete before the snow hits. As part of this project 10,000 more park rangers will need to be hired immediately. When asked about pay, the administration said everyone might not get a paycheck, but we have cool uniforms and it will make the unemployment numbers look better. Think of it as your duty to the motherland!

R.O.C.K. in the USSA
Dear Comrade President doesn't realize what he's doing! He's creating millions of teabagger horses, snakes, bears, and -gasp- squirrels!!!


Captain Craptek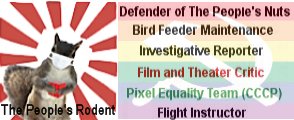 HA! My chance for another O Phone!


RedDiaperette

Not all horses will go, apparently. Rear ends of horses will be directing program.

But hark! What of plants? Roots have invaded land and are drinking up people's aquifer. They must be expunged.


R.O.C.K. in the USSA
Not the green ones, Comradette - the green plants will be receiving stimulus funds.