Commodore Snoogie Woogums
Comrades,

As all are aware our stimulus plan is taking a wee bit longer to take effect than .......er, originally advertised. As such The Party was forced to cut back just a wee bit on our Glorious May Day Celebrations as we celebrate May Day and welcome "The World of Next Tuesday" to get here by Next Tuesday, or the next Tuesday after that. But do not fret, this years Parade does include a shiny brand new shovel (a loaner from China) to heighten the festivities.

EMBEDDED VIDEO NO LONGER AVAILABLE


Gulag 4 Alfred

The temporary cut backs
will not
dampen the display of our superior military might to the People!
Our miniaturization techniques are the envy of the world!

Apparatchik Unkulturny

I Applaud our Sainted Spirited Kamerad In Blue [who, even though he took but one cigarette drag during the entire 0:14 seconds of the clip, nevertheless emulated Kamerad Stalin (a sainted Leader often marched in such Parades!)]


Grigori E.R.

Every year I have such high hopes for American May Day and every year I am let down with a resounding thud. Where were the parades of proud Union workers, the Acorn volunteers, Community Organizers and thousands of little Obama children in their cute light blue t-shirts? The banners, the speeches and the pageantry? No where to be found, THAT'S WHERE! Is there no Socialist Pride? Is this how we're to arrive at the Glorious Progressive World of Next Tuesday? I do not think so!!!

Sorry for the rant Comrades. I get so frustrated with these pseudo Socialist's hiding behind their mask of Progressiveness.


Red Rooster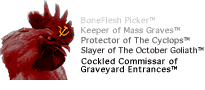 Comrades, Support The People™ today in this glorious struggle for The Progressive World of Next Tuesday for May Day and every day by supporting The Party™ at The Peoples Cube:
https://thepeoplescube.com/donate.php