Imperatorskiy Pingvin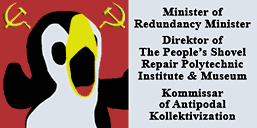 .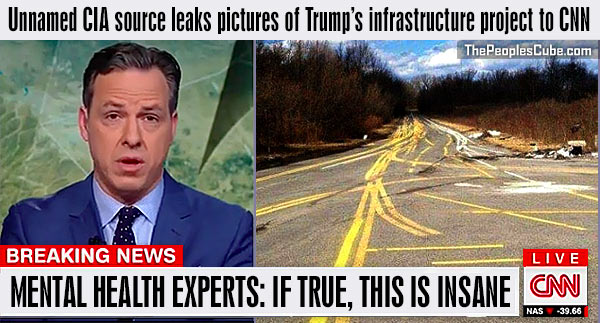 SODOM-ON-POTOMAC—Sooner than anyone thought possible, a pilot project intended to demonstrate the efficacy of
President Trump's
Emperor Trumpitler's much ballyhooed infrastructure plan was completed earlier this week, and the results have now been released to the public by the White House.
"We will build new roads, tunnels, bridges, railroads, airports, schools and hospitals," he told an audience in Cincinnati in December. And it's a road he has built. Several observers, including leading mental health experts, have examined the road and found the results quite revelatory.
"It is everyone's unanimous conclusion that his road, and hence his entire plan, is evidence of several deep-seated psychoses," wrote Nobel Prize-winning economist Paul Krugman in the
New York Times
. He
continued
:
[indentr]Remember that we're dealing with a man whose business career is one long trail of broken promises and outright scams—someone who just paid $25 million to settle fraud charges against his 'university.' Given that history, you always have to ask whether he's offering something real or simply engaged in another con job. In fact, you should probably assume that it's a scam until proven otherwise.[/indentr]
"As a practicing clinician, professional ethics prevent me from diagnosing an individual whom I've never examined," said noted Hollywood psychiatrist
Dr. Otto Scratchansniff
in a written statement to TASS/CNN:
[indentr]So I can't tell you that we now have definitive proof that this 'president' is completely unhinged. I also can't tell you that those lines [see photo below] clearly indicate a deranged psyche. Nor can I tell you that the man is obviously
reckless and dangerous
. And dangerously reckless. And also quite possibly recklessly dangerous. I
can
tell you that my three-month-old transgender Muslim daughter can draw straighter lines than that. But I can't tell you that in purely technical terms, he—Trump, that is; not my son/daughter—is
cuckoo for Cocoa Puffs™
.[/indentr]
In a recent article, Chauncey DeVega, politics staff writer for Salon.com, stated the following:
[indentr]The (unnecessary) debate is now over. The science is settled. 97% of
people I already agree with
scientists agree: Donald John Trump is a
political sociopath
. All that remains is for people of conscience to fight him. Fight him on the streets. Fight him at the borders. Fight him in his hotels and on his golf courses. Fight him on the White House lawns. Fight him on the beaches of Santa Barbara and Venice. Fight him in the hills of Hollywood and Beverly. For those brave, courageous, patriotic souls who've
pledged to leave America
, fight him in France. Fight him in the salons and parlors of all right-thinking peoples everywhere. Never give up; never surrender.[/indentr]
UPDATE: After a commenter noted that the White House lawns are fenced off, thus making fighting there difficult, Mr. DeVega, who stood in line at a local Starbucks, reportedly started ranting and screaming about roads, fences, walls, and the general insanity of the American electorate. He was taken to Chicago's Northwestern Memorial Hospital where he is being treated for
Trump Derangement Syndrome
.

Captain Craptek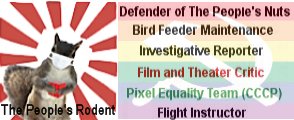 Imperatorskiy Pingvin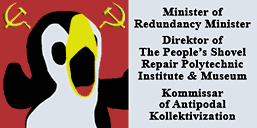 Captain Craptek
Project TrumPike #1
News we don't have time to write about: All interstate highways to be converted to toll roads and renamed TrumPikes.

Papa Kalashnikook


Comrade Stierlitz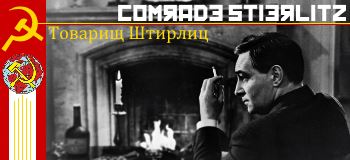 Imperatorskiy Pingvin
Captain Craptek

Project TrumPike #1


News we don't have time to write about: All interstate highways to be converted to toll roads and renamed TrumPikes.
He's going to build a wall, and he's going to make interstate drivers pay for it!

$.$. Halliburton

We're all gonna die!


Evil Smiley

What does Trump know about building things? How could the people have elected him?

Where is a Community Organizer when we need one?