Confederacy of Drones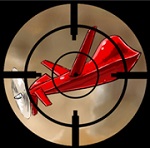 If you relied entirely on the still photos captured during the G7 summit you might think that all participants were either disgusted with one particular participant or the cabbage and baked beans were a little too potent for leadership digestive systems.
Take, for example, the viral photo below of Trump in what appears to be a contentious discussion. Perhaps Trump asked Angela if she and Hillary shopped at the same plus-size pant suit store.
Reality just might be something different. Here's another photo taken about the same time.
We suspect that the picture's a little blurry due to the camera immediately being pulled from the cameraman before the shutter was completely closed. The nerve, didn't he realize a happy, congenial G7 photo was verboten?
In reality we think this upbeat photo one was taken first, immediately followed by a wafting fragrance of methane, cabbage and overcooked broccoli as it overtakes the group, even requiring John Bolton to begin breathing through his mouth. All looked stunned except one person. We believe the culprit who dealt it is obvious due to the sly grin as he establishes an "air" of dominance.
Translation: Who farted?
See more at
Confederacy of Drones.

Red Square

Perhaps the G7 leaders can reach something similar to the Paris Accords in trading emission allowances through an international cap-and-trade system, where those who fart less get paid by those who fart all the time?
Actually, this isn't a first in politics. Sometimes the other side also feels the need to stay as far from a leader's fart as possible. But sometimes they are locked in an elevator.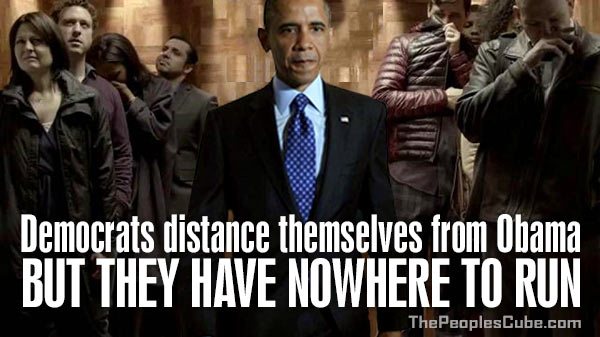 Red Square

Thankfully, we have a resident superhero to investigate this.
Calling FARTMAN!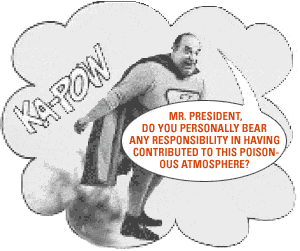 Clara Illbustyourballs Zetkin
I believe this is the picture that depicts the line to petition Pres. Trump for advice and help on how to straighten out the messes they have made of their countries. Teresa May petitioned POTUS to take over her Brexit negotiations.

Captain Craptek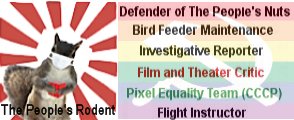 Red Square
Thankfully, we have a resident superhero to investigate this.

Calling FARTMAN!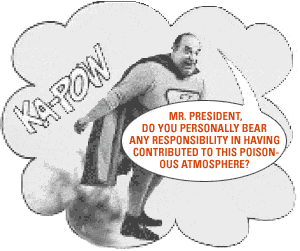 Don't forget Fartman's faithful rodent companion