Pamalinsky

Dearest Comrades,

Alas! The French are taking the lead in the conflict in Libya and the Middle East! It is most exciting, despite the news they are also retreating, as we speak. The USA is doing the most proper abstinence in any involvement in this messy mess. Don't worry, my most beloved comrades, it's all gonna work out! Vivé la France!

In view of this most prescient observation, I offer this (with honors to Theocritus' Bruno):

The late Frank Zappa said it all about the French when he said this, in honor of all sparkly things in this world that grab our attention, provide a deflection of reality, and make us feel better:
~



R.O.C.K. in the USSA

Oh dear. As my good ol' dad used to say, it's either the U-joint or the linkage.
Tiny Lights

Nikolai Dogoda


Pamalinsky

Dearest R.O.C.K. in the USSA and Nickolai Dogoda,

Thank you both so much for posting this most beloved thing of mine! How could I have gotten it all wrong? I just got the embed, copied and pasted. That's what I did! I absolutely love the link. Thank you for your assistance! X!


Grigori E.R.

"
in honor of all sparkly things in this world that grab our attention, provide a deflection of reality, and make us feel better
"
Comrade Pamalinsky has correctly identified the essence, the magic of our agenda. Yes Comrades, it's all about the smoke and mirrors. For decades we have distracted the masses with minutia, like items of political correctness. Our entertainment and mass media industries have also been a delightful distraction. Like a great magician we have distracted the masses with one hand and all the while placing the building blocks of our Socialist Utopia with the other.
Pour l'amour du peuple
(For the love of the people)
FYI- Do not use the embed code. Click on the little TV and paste the video's URL
Your Humble Spiritual Adviser,
Grigori

Sugar Daddy Bear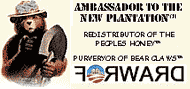 Ahh, yes. The magnificent, one-and-only master/genius of Weird Music: Frank Zappa.
As an aside:
This video brings back such fond memories of the privilege I had to see Frank play live at the Auditorium Theatre in Chicago in 1975 . He was in the middle of a rippin' guitar solo when some stoner in the audience cried out: "HEY FRANK!
GREEN
SHOES ARE OUTTA STYLE!" Frank stopped right in the middle of his solo and flipped not one, but a DOUBLE BIRD to the wiseacre. Then he picked up the solo right at the point where he left off. I was stunned (or stoned).
In this video is young prodigy Chad Wackerman on drums, but I was privileged to see Frank with Ansley Dunbar on drums.
Neener neener!

Pamalinsky

You, Comrades, are sooooo much fun! Thank you so much for your support of my post, which I did quite gingerly! But, not gingerly enough. Wasn't so sure it was worthy.

And, thank you, dear Grigori E.R. for showing me how to post a video. The one I picked looked so ugly. And, I believe it was YOU who fixed it! X!
Yes, Whinney-da-PBUH! The drummer does rock! As does Frank et al! I met many of these guys in the 70's.

Thank you all! X!


R.O.C.K. in the USSA

"Call any vegetable", I always say :)


Pamalinsky

Ha! Very funny, R.O.C.K. in the USSA, but, have you ever asked yourself THIS? Wait for it, it's deeeeeep! Do vegans eat animal crackers? Huh? As I'm sure you already know, words mean everything! (and, at times, nothing, nada, zilch!) ; •)