Captain Craptek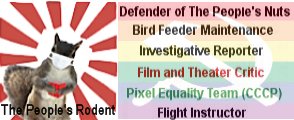 The Full Story Here
boston.com
"This is Panera Cares Community Café, a nonprofit outpost of the national bakery and sandwich chain that is set to open in Boston in January. The idea, according to Panera founder and co-chief executive Ron Shaich, is to provide a place where everyone can eat with dignity, regardless of their ability to pay for a meal."
The newly opened café stands at 3 Center Plaza, conveniently located across from Government Center in downtown Boston. Mr. Shaich boasts that Panera Bread has given the café to the community by way of its generous donation of nearly $1 million to the Panera Bread Foundation. Some skeptics have accused the company of creating the tax free organization to syphon off excess bakery profits. Others claim they are simply trying to establish their credentials as well meaning socialists.~
Mr. Shaich
"Nobody thought this could be done. I love figuring it out and seeing how it could work," Shaich said in a recent interview at the 3 Center Plaza café. "It's a powerful study of humanity — will people do the right thing?"
Boston Mayor "Mumbles" Menino reportedly applauded the venture noting, "Government workers will finally have a chance for a decent lunch without paying...er,...paying excessive Boston prices...er,...they'll get a good meal for a buck or two. How do the people of this city expect these tireless government servants to sustain themselves on their meager $100k salaries?"
The nonprofit restaurant must bring in roughly 75% of the retail value of food served to be self sustaining. What is not included in this figure are minor details such as the interest and principle on the initial capital outlays, the "donated" time of volunteers to run the operation, the tax exempt status of the foundation, or the "special" tax incentives offered by the city as reported by unnamed insiders. It should also be noted that nearly $80,000 worth of free furniture and lighting, along with cameras and coffee were "donated" by Panera's vendors. (who vigorously deny charges of extortion)
Other cost saving methods are employed such as bringing in day old bread and baked goods for the "loafers" as some non-believers label the homeless. The suggested donation for these items is lower than in regular Panera stores. However, there is one exception as noted in the boston.com story:
boston.com
"Bagels for the Government Center café will be baked fresh, however, and sandwiches will be assembled with freshly made bread."
"Food insecurity" was a frequent phrase heard among employees and patrons. Also:
boston.com
"Conscious capitalism — a movement that encourages businesses to do well by doing good — has gained traction in recent years among companies such as Whole Foods and the Container Store. And there is growing evidence that consumers embrace the idea of shared social responsibility."
Critics of "conscious capitalism" sneer at the concept. "It should be called unconscious capitalism", growled one irate customer. "These dumbass hippies are losing money left and right! I come in here every day dressed in my filthy ripped clothes and throw a pocket full of pennies and lint on the counter for a hot meal. What a collection of jerks!"
Other more charitable patrons stuff offerings of $50 into the "donation" box for a cup of coffee. Some even donate their time in the kitchen preparing meals for other guests. One kindly old gentleman reeking of gin, his nose dribbling slightly from the effects of what he claimed was a cold, muttering something about shared social responsibility as he maneuvered a hand full of lettuce toward a slice of bread. "Damn Bush!", he exclaimed suddenly. "He started the war. Those aliens weren't bothering nobody. Hey buddy, got any spare change?"
Update: An Occupy Wall Street spokesperson has confirmed rumors that the protest group has threatened to occupy Panera Cares locations in 5 cities if demands for totally free food are not met. "I come in peace, my Panera brothers and sisters. But bread belongs to the people, man..."

R.O.C.K. in the USSA

This venture is obviously in need of more government regulation. Who, after all, "gives us this day our daily bread"?? Hmmm?? The One, of course, President Barackzebub Hussein Obama.

Anyer Marx


Ted State
Great! For those of you not from Boston, this store is not too far from the Rose Kennedy Greenway, which is where Occupy Boston was "protesting". Free food for all!

Prog Off
Great. Now if they start to protest again, they will NEVER leave.


Chairman Meow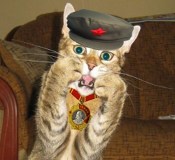 It is about time humans figured out how to Occupy. For 4,000 years we cats have been occupying your homes, barns, beds, chairs, countertops, and piles of recently folded laundry in order to get free food, toys, medical care, and catnip. Our occupy movement is greatly superior to yours because we bathe ourselves everyday.


Ted State
And you poop in the literbox (mostly) which is a big step up from the OccuPoopers.


Captain Craptek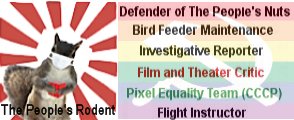 Comrade Ted is korrect. The OccuPoopers began their historic siege in ZuPotti Park.