Nomenklatura-climber

Dear Comrades,
In their struggle for the liberation of the workers and peasants of Syria from the oppression of the imperialist Assad regime, the courageous Free Syrian Army has requested emergency shipments of replacement cutlery to fortify their dwindling reserves in the face of renewed aggression from counter-revolutionary forces.
In defeating the Bourgeois and decadent elements operating in Syria, the FSA has often found itself needing to ration its armaments and ammunition usage due to chronic logistical problems following the Benghazi 'incident' which interrupted arms shipments from Libya via Turkey. Therefore, the FSA have bravely sought to
engage the enemy using kitchen- and pocket-knives
.
However, even these heroic acts come at a price, and knives are occasionally broken or become too dull to use. Until the USSA sends more Special Forces trainers to teach the FSA how to sharpen their cutlery, it is up to their Brothers in the Revolutionary Struggle here in the USSA to supply more knives for the cause of Social Progress.
Our own Comrade Party Chairman and Future President Barack Barackovich Obama has committed the Party to the goal of establishing an Islamic Socialist Caliphate in the Middle East, and so we fellow travelers are called upon to offer up our own kitchen cutlery for the furtherance of International Socialism.
Citizens may drop off their kitchen cutlery, or gift certificates from their favorite culinary supply shop, at any Democratic Socialist Party office. Agitate in your factories, welfare offices, and homes for greater support for the brave comrades in the FSA!
Comrades, donate your kitchen knives to the Free Syrian Army! Help the revolutionaries in Syria establish an Islamic Socialist Caliphate
Faithfully submitted to the Collective of the People's Cube,
Comrade Nomenklatura-climber
Dialectical Progressivism Translator

Captain Craptek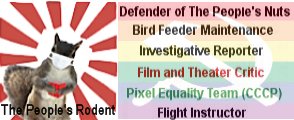 Comrade Climber,

I am certain Comrade and Dear Leader of The People Barack Barackovich Obama (PBUH) will be donating this knife when he's finished using it. Till then, our Mooslim allies and freedom fighters must fall back on their more traditional cutting implements - stone axes.




Comrade Putout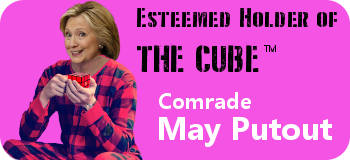 .
.

trashmouth

We must remember that our dear leader and these knives will represent a clear cut line between good and evil and that by doing this we will instill in our children the inability to blur such lines for the sake of their own emotional well being. Men and organizations like Hanud Mahmud Abu or Hamas aren't evil monsters, but simply misunderstood. Perhaps they are innocent victims themselves, victims of poverty, victims of imperialistic U.S. policies and aggression of the past, spit, spit. Given enough love, appeasement, capitulation and the complete and utter abandonment of our own military or Israel, these so called evil ragheads might just accept us as our friends, hold hands at the UN, enjoy many fun filled adventures...each designed to teach those reptilian mindless hordes that the word "terrorists" is a hurtful label to apply to anyone! After all Democrats and thousands of liberation workers can't all be wrong.

KOOK

Comrade
El Presidente says Obama has already supplied the cutlery
:
El Presidente
--KOOK