Laika the Space Dog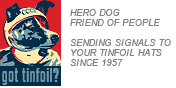 Chairman M. S. Punchenko

This is a joyous day! Now I can take my tinfoil hat off long enough to go wash my hair and not miss a moment of  Party indoctrination! I have Gulagoogle and the Amerikan Broadcasting Commune to spoon feed me progressive truth instead!!!

PRAISE THE POWER OF THE RED NANNY STATE!!! FOR THE GLORY OF THE DEMOKRATIK PARTY!!!


Bensnooty
European Socialist
Look  http://www.thepeoplescube.com/red/viewtopic.php?t=644


Premier Betty

Wow... I'm probably the only person in my skool without a myspace account, and I intend to keep it that way.
Kommissar Betty, it is your sacred duty to spread the word to all your classmates in your skool and other skools! We must stop this Googlization of the Rodina!
Copy and paste this: http://www.thepeoplescube.com/red/viewtopic.php?t=642
And email it to all your friends and let them know...They've been warned!

Laika