R.O.C.K. in the USSA

Dateline New Jersey -
This just in - New Jersey governor Chris Christie plans to switch parties in time for the 2016 presidential election, becoming approximately two fifths (2/5) of the entire Democrat Party.
This comes as a shock to many Democrats, most of whom have traditionally viewed Michael Moore as two fifths (2/5) of the party, and obviously with Christie on board that would only leave a single fifth (1/5) for the entire remainder of the party.
However, by utilizing Core Curriculum Math, it has now been proven that Michael Moore is actually only one fifth (1/5) of the Democrat Party, so that leaves the remaining two fifths (2/5) to be divided between all other Democrats.
While both Hillary™ and official Court Jester Joe Biden will also be vying for the presidential nomination, in Hillary™'s case what difference, at this point, does it make? And Comrade Joe, with hair plugs and clown nose included, makes up only 1/gazillionth of the party, so it's clear that, unless current president B. Husseinovich Obama chooses to run for a third term, Gov. Christie will likely be the next president of the USSA.

Comrade Putout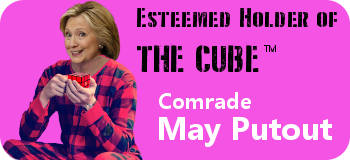 I just had to try and fix R.O.C.K. in the USSA's subject/title when it
Gov. Chris Christie to Switch Parties, Run Walk for President

RedDiaperette

If Hillary and Michelle run on the same ticket, as has been suggested, their combined backsides might make up an additional 2/5 of the Party. Then, with Chris and Mike weighning in at 2/5 each, and the rest of the Party at 1/5, that would be a total of 7/5. We don't even need Common Core math here to justify the total. Normal Party budgeting should cover it, up to, say, 20Trillion/5 or so, right? And if we need more, we can always raise the tonnage ceiling.
.
This is one primary where people might have to vote by the pound (or kilo) instead of by item.


Fraulein Frankenfeinstein

Why the switching when he is already secret Party member??


Captain Craptek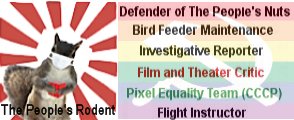 Kelly Ivanovna/келя ивановна
(Note to self: program Abhorence for Fat Jokes into reedumakation kamp brainwashing mechanism.)