frickfricker

HAIL HANK PAULSON! HAIL OUR DOUBLE AGENT SPY IN baBUSHka WHITEHOUSE!
.
http://frickings.blogspot.com

Dr. Nyet

All hail King Henry the Boar King.


Grigori E.R.

Comrade frickfricker,
If memory serves me right, the High Priests of Hawaii (the 57th State) would welcome such a creature. It would be prepared and cooked in the traditional Island manner ( buried in the ground over hot coals) and placed on the High Altar of His Oneness. The sheer mass of the beast could feed the people of the One's Home State for years.

Sending this ponderous beast forthwith would be a marvelous gesture of your Party loyalty and the Peoples Cube.


Commissar_Elliott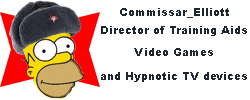 He who controls the money, controls everything.