Commissar Redumdimski

Third Undersecretary to the
Eighth Overseer of the
Department of the Redistribution of Evil Capitalist Theft of the People's Wealth
Motto:
"WANT IS WEALTH
POVERTY IS PROSPERITY
SQUALOR IS LUXURY"

My dear Tovarisches,

The recent outrage of Communist News Network's so-called "reporting" that "Drop in liberal support pushes Obama approval rating down" prompted a hurried meeting between our Blessed Husseinovich and several known-Faithful Party Planners. When he returned from the meeting, our own tovarisch General Konspiriskiy's face was beet-red with rage. I believe he was korrekt when he, between incoherent sputterings, babblings, and flying spittle, screamed "The $&*#ing CNN fools! Don't they know they've been $&*#ing infiltrated by the $&*#ing vile capitalist dogs who want to destroy our glorious People's Media ™?!!!?!

I was fearful that I might have to place an emergency call to try to rush an ObamaCare Ambulance for transport to medical attention, fearing the delay of several days that would of necessity result, if there was any hope of getting one to us at all, but his symptoms gradually subsided. When he had calmed down sufficiently, the good General was able to outline part of our new all-encompassing Media blitzkrieg which it is obvious we must all become involved in, my dear tovarisches, since the enemy is among even our own Media puppets Faithful.

We need to be proud of who we are. Loud And Proud ™. If some of our tovarisches in the Party are reticent to "eat their peas" (Oh! The brilliance of The Obama's spellbinding literary genius rolls off the tongue like sweet beet juice!) and call themselves by name, we will not be, and WE will lead the way for THEM. THEY are irrelevant anyway; only our blessed Husseinovich wields the People's Power.

So let's be clear, fellow tovarisches. The Democrat Party IS the American Socialist Party, and we must each boldly and loudly proclaim, "I AM a proud ASP', and "I believe in the ASP-hole Policies that will dig us out! ASP Policies that will dig us out of this hole!"

Last edited by
Che Gourmet
on 7/27/2011, 6:51 am, edited 1 time in total.
REASON: COMRADE KNOWS WHY HIS POST HAS BEEN EDITED!

Vladimir_Scratchanitch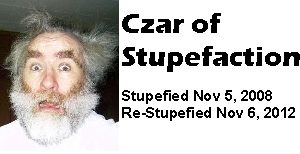 Calm down dear comrade, CNN is still the Communist News Network. For instance here's a fine story from today-
Obama: 'I need a dance partner' on immigration reform
By Catherine E. Shoichet, CNN
July 25, 2011 -- Updated 1925 GMT (0325 HKT)
(CNN) -- America's immigration system is broken, but only a bipartisan political movement can fix it, President Barack Obama said Monday.
"The idea of doing things on my own is very tempting

, I promise you,

not just on immigration reform

. But that's not how our system works. That's not how our democracy functions,"
Obama told the National Council of La Raza.
Speaking at the organization's annual conference in Washington, Obama said passing immigration reform measures will require support from both sides of the aisle in Congress.

"Let's be honest, I need a dance partner here, and the floor is empty,"
he said.
Audience members greeted Obama with a standing ovation, and responded to his discussion of immigration reform by chanting,
"Yes you can, yes you can."
"I need you to keep building a movement for change outside of Washington, one they can't stop, one that's greater than this community,"
Obama told them.
The speech comes at a critical time for Obama, who is trying to drum up support among Latino voters in the run-up to the 2012 election.
"Feel free to keep the heat on me and the heat on Democrats. But here's the thing you should know, the Democrats and your president are with you, don't get confused about that,"
he said Monday.
La Raza is the largest national Latino civil rights and advocacy organization in the United States, and its meetings regularly draw top political leaders.
Its leader Monday praised Obama's efforts to help Latinos and lauded much of the president's work from the White House, particularly his appointment of Hilda Solis as labor secretary and Sonia Sotomayor as a Supreme Court justice.
"While we may not always agree, Hispanics do have a voice in the administration, and the Latino community does have the president's ear,"
said Janet Murguia, president of La Raza, which translates literally as
"The Race."

FULL STORY
http://edition.cnn.com/2011/POLITICS/07/25/obama.la.raza/

Sugar Daddy Bear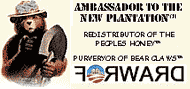 Does his 'dancin' partner' need to press "1" for English, or "2" for whatever?
And all along I thought "La Raza" meant "The Racists".
Just an addendum to your post:
Pres. Obama Issues 'De Facto' Amnesty to Illegal Aliens in Illinois
President Obama's appointees are issuing amnesties using administrative memos. This will allow thousands of illegal aliens in Illinois to avoid deportation. Various Immigration and Customs Enforcement (ICE) officials are being directed to use "prosecutorial discretion," and refrain from enforcing immigration laws against "non-violent" and "innocent" illegal aliens in Illinois, such as those who would be amnestied by the so-called DREAM Act amnesty.

Thankfully, House Judiciary Chairman Lamar Smith has introduced the HALT (Hinder the Administration's Legalization Temptation) Act. Illinois will greatly benefit from this bill if it becomes law, as it seeks to:
HALT procedures that cancel the removal of Illinois' illegal aliens;

HALT granting work authorization to illegal aliens in Illinois on a discretionary basis and;

HALT issuing extended voluntary departure to removable illegal aliens from Illinois statewide.
The Obama Administration's preference to shield illegal aliens from deportation, and instead issue them with temporary work authorization permits is a slap in the face to all Illinois residents.

Commissar Redumdimski

Illegal Aliens make some of the best Democrats (American Socialist Partyers). Doesn't everyone want to Party? Yo hablo Obama!