ThePeoplesComrade

Source
Apple once again models the cherished progressive principle that taxes should be raised on other people. Was Steve Jobs (may he rest in pieces) supporting President Obama's "tax the rich" policies or did he simply like the ideas of supporting Obama's tax policies. Progressives are idea people, big thinkers, if not thorough thinkers. If we can express concern for the less fortunate, often that suffices for caring in progressive social circles. Demanding that the government do something about the problem is even more extreme caring. Throw in a protest or riot and we achieve progressive sainthood.
So St. Steve directed his company to avoid as many taxes as possible in any way possible. This is the real Buffett Rule. Shout "higher taxes" and then run like hell.
We are certain the newly truthful New York Times will be reporting on the hypocrisy of all this.

Comrade Putout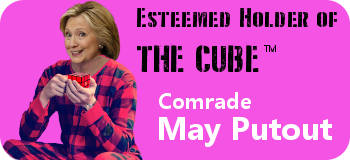 ThePeoplesComrade

Sacrificial Giving. That widow's mite story that Jesus told always made us laugh.
I think my prog is off on this. I'm all for making money and lots of it. It's hypocrisy that drives me crazy. Call me cynical but somehow I am unimpressed by zillionaires giving away meaningless (to them) drillions while basking in press conference afterglows. The same lapping, licking sycophants who drool over these self serving philanthropic tax specialists pass laws to steal Joe's Corner Grocery's income and inheritance. But lying, cheating and stealing, when done for the right reasons, is honorable. Brutus was and honorable man.
Who would have imagined I would end up on the same side of an issue as Cindy Sheehan, who has again weaseled her way into a small spotlight by refusing to pay her taxes. Nor would I have expected to agree with Maureen Dowd of the New York Times when she said of Sheehan, "Her moral authority is absolute." But I suppose that was not in the context of refusing to pay taxes. And I imagine Ms. Dowd would uncharacteristically find context important here.
Source
Am I taking this a bit too seriously? It must be the proximity to April 15 that has my undies in a bundle.