Vladimir_Scratchanitch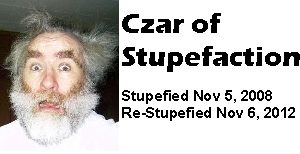 Now the story can be told how our fearless leader took out the worst terrorist in the world-


General Confusion

He could have taken out Osama bin Hidin, a taxi driver from Abbottabad. There is no "objective" evidence.


ThePeoplesComrade

I have heard that Mitt would have simply fired Obama but no telling the truth of it.


serr8d


UnifiedInformation

Obama did it with his two bare hands...and a trusty 5 iron. Huzzah!!!