ThePeoplesComrade

Earlier this month, Mr. Weiner released a copy of the couple's 2012 tax return showing that they had income of more than $490,000. And Huma earns every penny by reminding Hillary of what is really important and keeping her grounded in the current reality.
Read more ...

Ivan the Stakhanovets

"chage this to religion of peace"

(continued) ...or Friday after prayers your head will be on a stick for all to see...and change your cologne. It smells of bacon and is offensive.


Commissar Wahoo

Ahhhhhhhhh!!!!!!!!!!!

The all too familiar odor of recently minted Clintonian smarm...


trashmouth

Yes, there was a time, long ago when young dark skinned men who had dreams of 78 virgins could come to this wonderful land of Hope and Change, without having their feelings hurt or fear of being racially profiled. Now, all that has changed and unfortunately nobody in our country shares the natural transition into guilt and shame for stoking the fires of hatred and hypocrisy. Thank goodness Huma and Hillary are working for the common good so that we as a nation can no longer push our imperialistic arrogance and jingoistic pride against the Islamic bothers of peace. Yes, shame on us,
shame…..

Lyman DeKoquonut

Does her name not sound like an exclamation used when you have been kicked in the crotch?

"OOOO! M'weener!"


Fraulein Frankenfeinstein

(did Madam Hillary and Madam Reno break up???)


Captain Craptek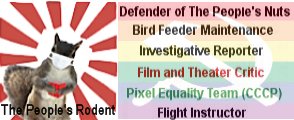 Fraulein Frankenfeinstein
(did Madam Hillary and Madam Reno break up???)
Fraulein,
I fear it may be so. There are rumors of dating and/or less conventional goings-on regarding
Jammit
Janet Reno & Janet Napolitano. But don't be concerned. I have a squirrel's-eye view of such matters and will advise relevant comrades if needed.