Centers for Disease Control

Public service announcements to unnecessarily annoy the progressive, communist bastard in you.

Captain Craptek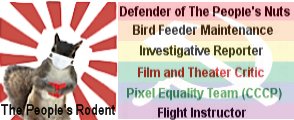 R.O.C.K. in the USSA
Just thought I should share this for those who don't use Twitter. Brad Thor, author, offered to buy George Zimmerman the gun of his choice when Holder's DOJ said he couldn't have his back.

Pamalinsky

Trayvon to Zimmerman: "Who are you, creepy ass craka? Why you be followin' me?"
Zimmerman to Trayvon: "I'm your creepy ass White Hispanic Fairy Godmutha."
Wow. That was really hard for me to post, but I did it anyway. Just contributing to the flow.Edit: For just a tad more clarification.