Infidel Castrate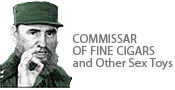 Comrades,
Most disturbing, our beloved Obama Girl has thrown Dear Leader under the bus. She has been seen on Faux News and now is Huckabee's Girl ... spit,spit,spit. Two-timing racist slut!
Clearly Faux News is paying her very large sums of $$$ to pull off this stunt. Perhaps they are courting her for a Anchor Spot, or as a Pundit?
EMBEDDED VIDEO NO LONGER AVAILABLE
Surely Obama Girl wasn't comprehending Dear Leaders 29 speeches about Health Care, just like the American People, she just doesn't understand as Dear Leader pointed out in his SOTU speech.
We must act now to discredit and marginalize all defectors from the Party, we must point out their
racism
, and expose them as tools for greedy KKKapitalists. We must re-educate all of our political icons while we still can.
This trend is very disturbing, first
Chris Matthews
has lost his leg tingles, now Obama Girl gets wet over Huckabee ... this is disgusting.
Sean Penn
has even endorsed the Fascist US military! The voters from from the
Peoples Republic of Taxachusetts
have rejected our agenda too!
We must reverse this trend, who will be next? Will Keith Olbermann become a "tea bagger"? Will Al Gore hunt polar bears? Will Michael Moore join Haliburton? Will the Rethuglicans take over education and indoctrinate our children with delusions of Life, Liberty, and the Pursuit of Happiness?
Will we lose the Liberal cast of the View? Obamamania
tm
is fading, we must act now ...
let's bring back the good ol' days
.
We must
fabricate
write more letters
using fake names
to the editors of newpapers all over the country.
Please submit your suggestions so that we may roll back the Vast Reich Wing Conspiracy and promote the Currect Truth™.

Fraulein Frankenfeinstein

Rham Emmanuel should pay the fraulein a visit and help her get her mind straight.


Comrade Whoopie

Wasn't it our greasy grimey skank crunt comrade Janene Garofalo who suggested that a bunch of negro thugs colored people of color rape Sarah Palin to teach her a lesson?

Well, maybe we should contact Bertha Lewis and have her send some burly ex-cons ACORN volunteers to do the deed.


Comrade Buffoon

Comrades! Many answers to your questions were leaked after a rogue fascist right winger agreed to talk for a can of beets and an autographed photo of Rachel Maddow! She's so dreamy...
Be advised:
Former Obama girl does indeed get wet for Huckabee, it seems she's long been a closet fan of his impressive bass chops, double chin and Christian mojo. She agreed to turn traitor if he simply taught her to play Smoke On The Water and give her a deep, loving tongue kiss... Indeed Comrade, a racist, two-timing slut!
Chris Matthews DID NOT lose his coveted leg tingle but has in fact lost his legs altogether! He donated them to a Swedish team who claim they can zombie Lenin. They only needed a pair of legs. Matthews also offered his man parts but was rejected after two weeks of searching failed to produce any. Personally, I think the state should issue him working genitalia.
Wait! There's more!
Keith Olbermann already is a teabagger, nuff said about that, no?
Al Gore is not hunting polar bear but HAS taken up the sport of speed choking baby goats or SCBG. Its all the rage with the Pabst Blue Ribbon crowd in rural Alabama. It involves large amounts of PBR, and often times cocaine, where competitors place small goats in various choke holds and whichever man takes the life of the goat first wins! Xtra points are given for unusual holds and singing old Garth Brooks songs while competing. The prize? Bragging rights and his choice of trailer park queens for a month. Those damned hick fascist are completely immoral!
As for Sean Penn and Michael Moore, I have no facts to report even though I offered the racist right wing turncoat a months supply of sardines and toilet paper. He did however mention a rumor that they were holed up in an LA Mariott smelling each others farts, training to become competitive in SCBG and listening to vintage Rush Limbaugh to invoke righteous commie rage.
Just a rumor though.

Opiate of the People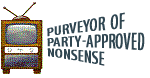 Comrade Infidel Castrate, the problem here is clearly that an ages-old disgusting despicable disease is rearing its ugly head again. Of course, I am speaking about RAAAAACISM. The polls show that black and Latino voters still support Dear Leader in overwhelming numbers. It is just the raaaaacist honkies that have turned against him. C'est dommage, but there is NO other explanation besides RAAAAACISM, for as we all know people of color cannot be racists, only honkies can be racists.

Excuse me now, I am going to call someone at random in Iran and apologize for my country.


Comrade Whoopie

Oh comrade Buffoon, as entertaining and newsworthy as ever. Those sardines make me hungry and remind me of an old joke about Stalin sitting behind his desk eating sardines out of a can during the purges...but I forgot the punchline (oh well).

As for Rachael Maddow, I seen her interviewing Bonnie Fwank last night. I couldn't escape the mental image of her whipping out her male organ and Barney bending over to accept it. I'll let you envision which way he was facing.