Genosse Dummkopf

.
MRC :
Pres. Obama said that Nordic countries would make the world "more secure and more prosperous" if "we" would just let them run things.
MRC :
[Obama] "So I really do believe that the world would be more secure and more prosperous

..

if we just had more partners like our Nordic countries. There have been times where I've said, why don't we just put all these small countries in charge for a while? And they could clean things up."
There is also an MRC video included - The Messiah Himself uttering the words.
It's 2:48, the usual menu : vapidity, soaring platitudes, and world through rosy-colored glasses.
Me a Kraut, I can assure you that
GröFaZ
(der Führer) also had a knack for, um, Nordic People.
(not painting a mustache on Messiah here - just taking a measure of His tin ear.)
(and imagine Mr. T these days, waxing poetic on them tidy and apt Nordic Volks. RRAAAAcist!)
_________________________________
PT to MRC, Media Research Center,
here
.
PT? Papakha Tip. (Papakha?

here

)
~
---
Being a career pol, Herr Hop (introduced
here
) speaks habitually, and tactically, in vague terms - His "me blank screen, you project here whatever" shtick.
It's once again on display in the above : "we" yielding to "Nordic massa" for "a while" (and you see Hop's synapses churning : "a while" of several years of full-blown dictatorship of "the Enlightened (e. g. Himself)" over the knuckledraggin' "we", the benighted evil AmeriKKKa).
In Hop's abundantly demonstrated shallow-mindedness, I bet it never occurs to Him, how His dreamy troika of "Nordic massa" + "a while" + "sumptin' (we?)" applies, and seamlessly so, to all those thoroughly failed constructs of the "post-colonial" period, and here, sadly, near all the African neo-entities first.
---
P.S.
Hop's Mein Inner Kampf was already sensed
here
(in terms of Cultural Appropriativity).
P.P.S.
Remember the Soviet NewSpeak penchant for shortcuts - all those KomIntern, GosTekhIzdat, GlavNachPoops
( this one satiric
J
)
, etc. ?
The Nazi did exactly the same. It's caustically described and analyzed in a book by a renowned linguist of that time (on top of all his problems with the New Order, he was Jewish). He gave his notes - published after WW2 was over - the title LTI. Meaning
Lingua Tertii Imperii
.
(the book is available "everywhere", details about it and the author easily found via WWW.)
The mentioned
GröFaZ
(its meaning, at a glance, in the link) was a folksy label for the Führer, grotesquely spoofing the shortcut-mania (and 'Faz' faintly evoking 'Furz' = 'Fart').

Genosse Dummkopf

.
Nordic countries... You peek into the atlas - oh yeah, here they are : ho-ho, Norway, oh-oh, Sweden (and Øresund, Denmark, and up there - Finland, on its border Russki bear snoring.. (yet one eye half open..) ).
But, but, but - Messiah.
Is He cozying up to Norway & Sweden just in Hope of being awarded the Peace-Nobel-2017 ? Unprecedented ! Historic !! Annals Of History, New Chapter !!!

Comrade Biffinaditch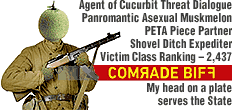 Is this a case of Dear Leader's™ judgment being muddled by finely-honed Gaydar?