Comrade Pavlovski

Comrade Pavlovski - Commandant Northernmost Re-Education Center
2012 is just around the corner and it's time to start the campaign for
Fearless Leader
. Although most of the
enlightened individuals
citizen criminals I administer quickly climbed on board the
Divine Leader's
campaign bus, others were somewhat stubborn and unwilling to perform as instructed. As I usually do, I turned out the entire Gulag in the snow to watch as the worst offenders were forced to dig their own graves and then I had the instructors shovel them in the back of the head (per normal procedure) to encourage compliance amongst the less reticent.
It occurred to me, however, that perhaps I am wasting perfectly good campaign workers with these somewhat crude methods and I am pleased to announce a new method of re-educating proles that I believe may be a sound alternative to the old fashioned shoveling.
The new method which I am calling "Bolting" leaves the recipient quiet, ambulatory and most compliant. And for individuals who will be working on the
Golfer in Chief's
2012 campaign this is a perfect state of mind as they
will not be able to remember the endless lies from the previous campaign, complete lack of leadership and the fiscal and social insanity of his first 4 years
will think only of the many good things the
Anointed One
has started.

Vladimir_Scratchanitch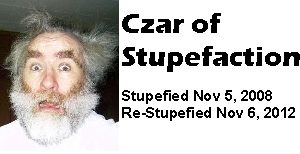 Comrade Pavlovski,
It may be too late to bother campaigning for Dear Leader.
It appears the Bloody Brits are getting wise to him-
BARACK OBAMA: THE WEAKEST PRESIDENT IN HISTORY?

President Barack Obama's supporters believed that he had the vision to transform America
Friday March 18,2011
By Anna Pukas
Express.co.uk
INEFFECTUAL, invisible, unable to honour pledges and now blamed for letting Gaddafi off the hook. Why Obama's gone from 'Yes we can' to 'Er, maybe we shouldn't'...
http://www.express.co.uk/posts/view/235196/Barack-Obama-The-Weakest-President-in-history-
So it may be time for wise comrades to cut our losses.

Comrade Whoopie

Comrade, our strength lies in weakness.

(That's the Current Truth and I'm sticking with it...until it changes)


Fraulein Frankenfeinstein

"The new method which I am calling "Bolting" leaves the recipient quiet, ambulatory and most compliant."

my my my, I have been using this method for years and decades and did not know it had such a specific name. (and as you can see, Comrade Whoopie is most familiar with the technique). I am thinking this is a good method which will be most useful in the 2012 and beyond! Good work, comrade. <OFF> and Welcome to the Cube!


Grigori E.R.

Let us not forget the Jiffy Lobo Franchise treatments. They are not quite as messy. Still, I can see the Bolting Technique as very useful in a pinch.