Dr. Strangelove
[center]
KFC No Longer Permitted To Use Word 'Eat' In Advertisements
[/center]
Dr. Strangelove
Direktor of Flashing Lights, Shiny Things, Bobbles, and Cinematography
Ministry of Agitprop
"Gentlemen, you can't fight in here! This is the War Room."

Comrade Whoopie

I'm finding that a little hard to swallow.


Commissar_Elliott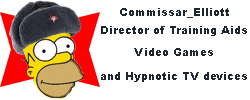 This is a little tough to chew ;).

(off)

Good lord, in the words of Sheriff Justice "What in the hell is the world coming to?"


Colonel 7.62

Well it is from the Glorious Onion News Bureau.