Ronitchka
prog off/
It was not until 1998, after the collapse of the Soviet regime, that Oleg Gazenko, one of the scientists responsible for sending Laika into space, expressed regret for allowing her to die:

Work with animals is a source of suffering to all of us. W
e treat them like babies who cannot speak. The more time passes, the more I'm sorry about it. We shouldn't have done it ... We did not learn enough from this mission to justify the death of the dog.
R.I.P. Laika

Lev Termen
Front page is saying Laika is "sending signals to your tinfoil hat since 1957." Dog's radio has good Soviet batteries!

USSA has not reputable past in space animals. "On December 12, 1949, the last V-2 monkey flight was launched at White Sands. Albert IV, a rhesus monkey attached to monitoring instruments, was the payload. It was a successful flight, with no ill effects on the monkey until impact, when it died."

I am thinking monkey would not be saying this is "successful."


Comrade Stierlitz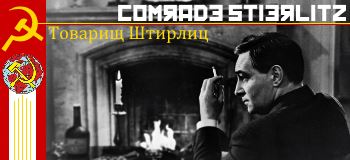 Look at the look on that sexy dog's face. You just KNOW he's gonna be gettin' some leg action whenever our Revolution is instigated and we can bring Laika down from his post as Chief Space Radio Propagandist.


Red Square

In fact, Laika the Space Dog is still alive and scratching, sending korrekt signals to our tinfoil hats from orbit, with occasional Friday night retrospect music programming.
She used to maintain her own
Laika column
at the People's Cube, but now she has more urgent responsibilities conditioning the masses down below for 2016 presidential elections.
I have been selflessly orbiting
Earth since 1957, breaking space
endurance records, proving Soviet
Space Program is more advanced
than Amerikanski Program. Man on
the moon, ptooey! Amerikanski not
returned to moon since 1972, and
I am still up here!

But I would like to come back to
Earth and help Amerikanski workers
and farmers defeat capitalist
oppressors and live happily like
Soviet workers and farmers. They
could use help from Hero Dog of
Soviet Union, Friend of People, no?

Laika (Controlling your tinfoil hats since 1957)
Here's some material from that section:
The "True" Story of Laika the Space Dog
Russia: Trailblazing Canine Cosmonaut Remembered

Red Square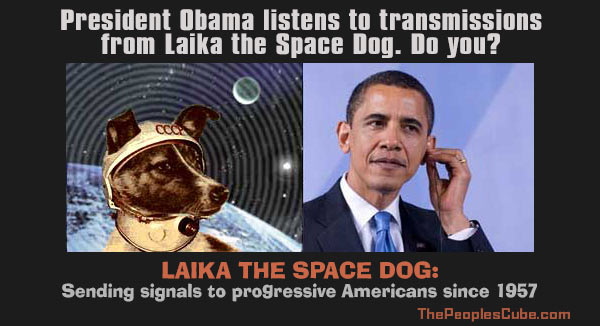 Comrade Stierlitz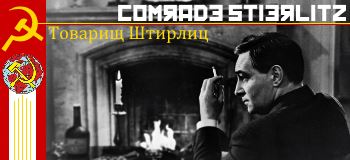 Red Square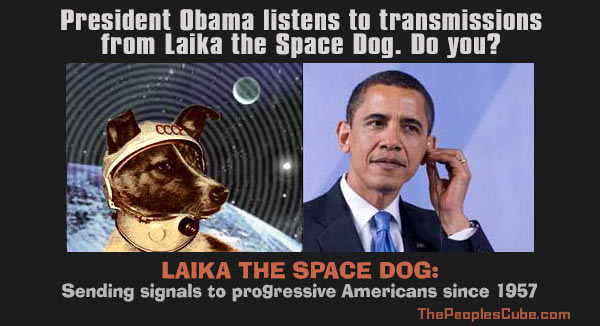 LAIKA 4 PREZ!

OBAMA 4 AGITPROP!

Kapitan Kangaroo Kourt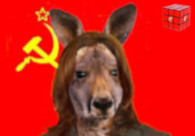 I remember my brother successfully launching a mouse into the stratosphere with one of those kit rockets one buys in the hobby/toy stores. It may not be possible to buy them anymore. I don't know. The mouse, like Laika, did not survive. The model rocket wasn't of much use after the crash landing, either. Science is far more fun when it's financed by a bored government that can't figure out what the worst use of The People's money might be.


El Presidente

Thinks for taking one for the team, Laika.