Red Square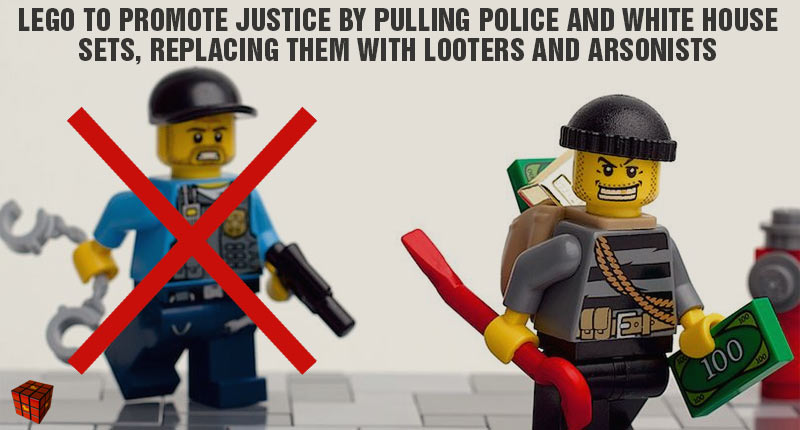 "In light of recent events, LEGO has requested the below products to be removed from sites and any marketing ASAP," the email states, according to Toy Book, listing 31 sets that depicted scenes with police, firefighters and the White House.
Instead of the canceled toy sets that previously taught TheChildren™ all the wrong ideas about building, decorating, and upholding the rule of law, the company will now start manufacturing toy sets featuring Antifa, BLM, looters with crowbars, arsonists with Molotov cocktails, nude feminists, and protesters wearing vagina costumes and pussy hats, so as to better condition TheChildren™ to life in the Glorious Progressive World of Next Tuesday.

$.$. Halliburton

And then they burned down the LEGO factory ...


Rikalonius

Sample LEGO sets for the future:

- Antifa anarchist hitting female cop over the head with stick.
--David Dorn set with dead David Dorn with pawn shop backdrop, with broken window and door.
- New York apartment LEGO building with screaming child in 3rd story window, and ANTIFA minifigs blocking firefighters from getting in.


Zampolit Blokhayev

As a Soviet AmeriKan and a ranking member within the DNC's Politburo™ I applaud LEGO's stupid "compassionate" stance in supporting Soros inspired looters "progressive" peoples of action.

Heil Hillary!


Evil Smiley


Clara Illbustyourballs Zetkin
LEGO is proud to present some of it's new products being distributed FREE, just like Obamaphones, through the Ministry of Information's Kiddie Re-Education program.

First we have the basic LEGO Communism starter kit. Comes with everything shown.



For the scholarly there is the Stalin Documentary kit complete with women's rights, assassination of Trotsky, executions, killing Bolsheviks, hard labor and other kool kommunist events of the day.

The hottest kit to roll off the manufacturing conveyor belt is the LEGO BLM (Anarchy Communists) vs Police (Nazis).



Get your request in quickly kommrades. Limited quantities available.
(Greasing palms with a little extra blat is recommended to assure timely delivery.)