ThePeoplesComrade

I wish to go into partnership with you.
I will provide no capital or funding.
You will put up all of the capital.
You will provide all of the labor.
I will tell you what you can sell, make, how to build, who you can hire and fire and how you conduct business.
Each year you will give me one half of your profit.
You must pay me twelve percent of what you pay your employees (for administration and rule making).
Next year you must provide health insurance for your employees.
If you decide to sell, you must pay me 20% of the value received over your original investment.
Please sign here.
____________________________________________________
Sincerely,
The Government
(We are confused why there is no economic growth in the United States. We suspect the public has become lazy.)

Shovel 4 U
And still all the greedy kapitolist bastards complain of these extremely minimal contributions to our downtrodden brothers & sisters & it'sters social justice.
It's right in front of their soulless eyes that it's not nearly enough:
Yet they can only think of themselves. :(

General Confusion

Is this a job offer for Fannie Mae or Freddie Mac?


Ivan Betinov

CAPITALIST IN THE BUNKER! CAPITALIST IN THE BUNKER! HaileyQ's link is to a COMMERCIAL WEBSITE! RUN! FLEE!


Capt. Commie

Not only is HaileyQ a troll, but it's a Kapitalist troll!!!!!!!!!!!!!!!!!!!


Captain Craptek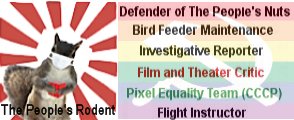 "Personal Money Network?...short term loans?? I thought Dear Leader had scrapped short term loans in favor of long term handouts...