Konservative_Punk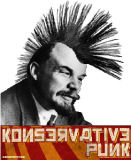 Comrades!
The imperialist Americans are at it again. This time, they are trying to get their filthy hands all over Venezuela's bountiful oil reserves, by military force if necessary. They have somehow managed to convince thousands of weak-minded Venezuelans to take to the streets demanding "free and fair" elections shortly after Dear Leader Maduro
stole
won
another term as El Presidente (Maduro, not the dog). The Americans have even managed to brainwash these proletarian Venezuelans into believing that The Party's massively successful mandatory weight loss program is a failure. So they are demanding that America be allowed in to provide
much needed
unnecessary
medicine and nourishment.
These greedy American KKKapitalists simply seek to intervene in Venezuela in order to stymie the blossoming of our beloved ideology in Latin America under the guise of "humanitarian aid" ...as if a KKKapitalist nation could contribute anything positive to a glorious socialist utopia like Venezuela! They have even gone so far as to spread rumors about everyday Venezuelans being forced to break into zoos just to find fresh, consumable meat and get this, even to eat their own pets!
The Party denies that the people are subsisting on things like flamingos, aardvarks, and pythons for nourishment. We are assured that nothing could be further from the truth and that Global Warming is probably responsible for all the dead/missing zoo animals as well as the numerous animal carcasses that litter the streets.
Luckily, Maduro now has
a mole
an ally
in Congress to help turn the people against any measures taken by the Orange One ™ to stop the glorious efforts at collectivization there. When asked to weigh in on the "humanitarian crisis" there, Ocasio-Cortez simply offered this in
response
:
"I think that, you know, the humanitarian crisis is extremely concerning but, you know, when we use non-Democratic means to determine leadership, that's also concerning, as well."


Of course she was parroting Party talking points to distract the Americans from their mission to undermine Democratic Socialism ™ in The People's Paradise of Venezuela. Thus far, she has proven herself to be
a useful idiot
an obedient servant
to the Democratic Socialists of America, who have called on her to stand against "American imperialism" and the "coup in Venezuela," even tweeting the phrase, "Hands off Venezuela!"
Recently, a "news crew" from Univision (featuring Jorge Ramos) traveled to Venezuela to interview Presidente Maduro, where they presented him with "video evidence" of his constituents eating directly from the back of a garbage truck. Of course El Presidente (Maduro, not the dog) knew that this video was just another faked attempt to discredit our glorious cause. So they and their equipment were taken into custody and were released shortly thereafter (the news crew, not their equipment). So it appears that our socialist voice in Congress, Alexandria Oacasio-Cortez is in lock-step with Presidente Maduro who also seemed to convey this message to his people: "Let them eat snake."

RedDiaperette

Konservative_Punk
So it appears that our socialist voice in Congress, Alexandria Ocasio-Cortez is in lock-step with Presidente Maduro....
Lock-step? Is this yet another new dance that Comrade Ocasio-Cortez has given us? Oh, I can hardly wait to see the video. Perhaps we can all join in, along with the rejoicing crowds dancing in the streets and zoos of Venezuela.

trashmouth

Well, as a woman who can pause occasionally with fierce journalistic objectivity, who has never been assassinated, shot at, blown up, or had her head sawn off, starved to death must be acutely aware of how historians will one day compare her with the likes of Empress Wu.