Dr. Strangelove
PEOPLE'S KARAOKE: Hugo Cuts an Album!
Dr. Strangelove
Direktor of Flashing Lights, Shiny Things, Bobbles, and Cinematography
Ministry of Agitprop
"Gentlemen, you can't fight in here! This is the War Room."

Opiate of the People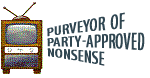 Here's some of the glorious revolutionary tunes you'll be hearing:

I Can't Keep Buying Off the Masses Unless Oil Gets Back Over $90 A Barrel

Comrade Obama Owes Me Big Time for All the Illegal Campaign Contributions I Sent Him

I'm Progressive and So Are Many Diseases

Joe Kennedy, Don't Expect Any Free Heating Oil From Your Friends In Venezuela This Year

We Socialists Won't Stop Fighting Until The Last Functioning Economy Is Destroyed

I've Got My Ticket To Cuba Handy In Case Things Turn Really Brown


Margaret
I love the album cover!
Battle Music
Quote:
Listening to the song, Venezuelan musician Carlos Rosales said he felt that "el comandante" had "everything that you need to sing our folk music: creativity and an ideal for which to sing." He added that in order to sing this kind of music the most important thing is "to sing with passion, and we can't deny that when Mr Chavez speaks, both his supporters and opponents alike feel that he really means what he says."
I wish Obama had a title like "el comandante." "President" is so reactionary. Maybe he'll have his own TV show too, just like Chavez. I hope so. We can't get enough Obama. And I'll bet he sings like an angel.

Dr. Strangelove
Margaret
We can't get enough Obama. And I'll bet he sings like an angel.
Yes, he does. Have you ever heard him sing, "I Believe I Can Fly?"

Opiate of the People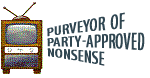 The most glorious of all is when he stands in front of a mirror and sings, "Did you ever know you are my hero?" It'll render Chris Matthews unable to stand straight for a month.


Lifelong Republican
New movie for our New World:

Doctor Strangelove (how I stopped worrying and learned to love Obama)