Comrade Stierlitz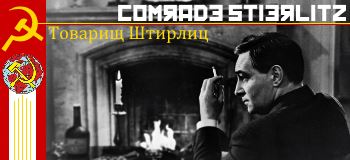 From The Daily Caller:
Looks like our komrades in "higher" education are being trained in the Kubist way! The whole world truly imitates the Kube. The world imitates the Kube with such accuracy, I believe that in 10 or 20 years, the geography classes won't have globes in them, they'll have Kubes!
Screw having a USA party, have a USSA party instead! Don't celebrate that flag of the past, get in your safe space, lock the door, bust out your crayons, and design a new, progressive flag of the future!
More suggested activities:
Plan on how you will revolutionize your neighborhood after you get out of college. Make sure it involves spray paint and arson.
Don't sing the national anthem, write a new one based on the transgressions you feel that our country has committed. Make sure you use at least 100 expletives and the n-word.
Don't celebrate our racist, sexist, misogynist, kapitalist imperialist white history, collaboratively rewrite our history so that it's 100% Party-Approved!
As a group, put on your Nike shoes and your Prada handbag (guys too, c'mon, stand in solidarity with all womyn), take a walk to Starbucks for a Vespa Ferrari Lambo Hooziatto, call the GOP on your iPhones, and bitch to them about how Capitalism is wrong. Then call the cops once the GOP hang up. Bitch to the cops too. Then find a way to get tazed, call the cop racist, and make a bunch of money in court.
Drink beet vodka like it's going out of style. Build a still and make some if you can't find any. If the cops or DEA comes knocking, tell them that you're vodkasexual and that the still is your fiancee. Tip: To get more money on April 15th, claim the still as a dependent. If the IRS knocks, tell them what you told the DEA.
Practice wiping your ass with copy paper so that you'll be able to do it with your degree.
Sadly, with possibly the exception of a few business colleges (and most certainly the community colleges that are filled with people who know how to spend money wisely), the spirit of this "moratorium", if you can call it that, is in every single college and university. Anybody with a brain and a pulse can see that ever since the 60's these colleges have been nothing but breeding and training grounds for Marxism, Communism, and liberalism. And not the classic liberalism I'm sure most everyone here agrees with, but the new, deadly kind that seeks and destroys minds, nations, and families in pursuit of power and ever-changing, ever-increasing demands.
In 1992, at the Republican National Convention, Ronald Reagan declared that he had seen "the birth of Communism and the death of Communism". I think that this declaration of death was too early and very dangerous. It seems that if Communism ever died in the first place, it has come back from the dead.
The Soviet Union, with its' influence and infiltration programs, has played the "long game" on us. Russia, in its' history, has always played chess while its' enemies played checkers. With Reagan's declaration and the collapse of the USSR, we as a country became soft and lost our vigilance towards keeping Communist ideals and philosophies out of the government. We got so wrapped up in our victory party that we didn't realize we had a massive log of stinky dog shit cooking in the oven. This means that even though the Soviet Union doesn't exist in our world anymore, it still exists politically. It has, in effect, won against the more powerful parts of America posthumously. And we're just now starting to really smell the stinkiness of the situation. This is why people like Red can tell communism so well: They've smelled the shit before, and if they just get a tiny whiff, they know exactly what caused it.
We see the spoils of this victory in Hollywood politics, the massive support for Obama and Bernie Sanders, the endless manufactured riots in cities across the nation that hearken back to the manufactured riots that stirred unrest in the many countries that the USSR stole, the fascist-like ways that people with different opinions than liberals, commies, or democrats are treated, and the many declarations from colleges like the one in the article.
Your tax money goes towards these people. You know how much of it you'll get back?
$0.00

Pamalinsky

OFF: Oh Good Grief! I'm so sick of this crap! An embarrassment of glitches.

(I agree with all of what you said and thank you for posting it.) I never thought I would ever see this happening in my country and I have so many friends, left and right, who say the same.

MAGA!