Captain Craptek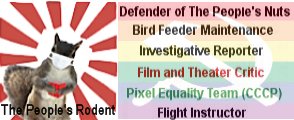 From the "Government Parody of Itself" file:
Hugo Martinez Lopez, a California "Dreamer", was exhausted from his earlier performance. Sleep was the only thing on his mind now. Hugo, you see, is a magician and provides entertainment at various events throughout Southern California. This particular event had been over 3 hours from home which necessitated the late night drive. As a result, he must have taken a wrong turn and suddenly found himself in unfamiliar territory.
Hugo stopped at the first roadside business he found and attempted to get directions. Hugo Lopez cannot speak English well, but somehow managed to express his difficulties to the counterman at the café who provided directions. He bought a cup of coffee, drank it quickly, and returned to his car only to find it surrounded by police cruisers and a small army of official looking people in civilian clothing.
Hugo approached the nearest uniformed officer with trepidation. "¿Cuál es el problema, oficial?" he asked politely. "License and registration, please", the officer barked. "Qué?" Hugo replied in confusion. "License and registration, sir" came the still more strident order. Hugo threw up his hands in dismay. " No entiendo".
Unfortunately for Mr. Lopez, he was in the country illegally. To make matters worse, he had no insurance, no driver's license, no state inspection sticker, and no effective way to communicate with the police. Surmising Hugo's plight, the officer quickly dropped his inquisitorial tone and called out to a rather stern woman who had been peeking in all the windows of Hugo's car.
The woman marched up to the two men and flashed a badge. "Sir. I'm an official rabbit inspector with the USDA. Do you have the correct paperwork for the rabbit in your back seat?" Hugo was puzzled. Once again, he shook his head, "No entiendo." The woman became agitated, pointed toward Hugo's car, and in resounding voice bellowed, "Sir! Your rabbit is required to have a license. Do you have the required license? And I'll need a copy of your disaster and rabbit evacuation document in case of fire, flood, tornado, air conditioning failure, ice storm, power outages and the like. Where are the rabbit's documents sir?"
Needless to say, the rabbit was taken into custody. Hugo finally found his way home and is now forced to make a living without his trusted magician's companion. But there are many more bunny horror stories involving the USDA in the following links - if you dare read them.
bobmccarty.com
Washington Post

Chairman Meow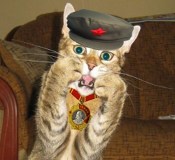 Our Dear Leader is also using the Commerce Clause to have the U.S. Department of Agriculture regulate my polydactyl cousins at Hemmingway Home and Museum.
Government inspectors determined that if the museum wanted to keep the cats "on display" it needed to obtain a license under the federal Animal Welfare Act, keep the cats in individual cages each night, tag each cat for identification, build a cat-proof fence around the home, and build elevated resting surfaces for the cats.
http://www.nytimes.com/2012/12/23/us/cats-at-hemingway-museum-draw-a-legal-battle.html?pagewanted=all&_r