Captain Craptek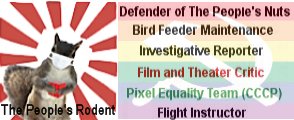 The State Department admitted today
that a "deliberate" request was made to delete a portion of a 2013 press briefing video in which Fox News correspondent James Rosen asked about secret negotiations between the Obama administration and Iran.
State Department spokesman John Kirby thinks the white flash is probably the result of engineering personel adding new Memory Holes to the building.
[indentr]"There was a deliberate request, this was not a glitch," said State Department spokesman John Kirby, adding that it is not known who made the edit request on that day.

"Who controls the past, controls the future: who controls the present controls the past," said Kirby, "It was not the right step to take."[/indentr]
He said he did not know of other examples of this taking place, but could not say with "great certainty" that it was the only instance.
And yet the past, though of its nature alterable, never had been altered. Whatever was true now was true from everlasting to everlasting. It was quite simple. All that was needed was an unending series of victories over your own memory. "Reality control," they called it: in Newspeak, "doublethink."

Chairman Meow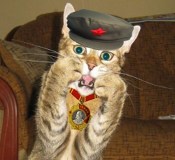 Our Dear Leader was just preparing our eyes for much bigger white flashes resulting from his Iranian nuke deal.