Imperatorskiy Pingvin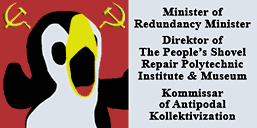 SODOM-ON-HUDSON — In the wake of Trumpitler's
inauguration
counter-revolutionary coup d'état, Democratic National Committee inner party leaders last week convened an
emergency conference
to discuss tactics and strategy in these frightening and chaotic times. During the closed-door event the inner party determined that last year's electoral failure was caused by ineffective and insufficient
propaganda
messaging, and redoubled efforts along that front with a new and improved program
me
for the re-education of all outer party members, who are now
directed
encouraged to report to their local commissars
immediately
at their earliest convenience.
"Decades of lies, agitprop, and lying agitprop have failed," explains new DNC
Minister of Propaganda
Communications Director Ibrahim Bahir al-Trashcani in an introductory video. "If we can't trick… No? I can't? Dupe, then? No? Hoodwink? Deceive? Bamboozle?… Ah, I see. Excuse me…"
(clears throat)
"If we can't
convince
the deplorables to vote for us, then we won't be able to finish Dear Leader's—
alayhi as-salām
—fundamental transformation of America into the sharia-law worker's paradise of the glorious world of Next Tuesday™. And that's un-American. Or maybe it's American. Is Americanism un-American now, or is it the other way around? I can never remember. We should've formed another committee to clear this up."
An advance copy of the new re-education syllabus has been
leaked to
obtained by the
Pravda-Hudson Times
, which includes the following topics:
The Constitution: How to kill a living document
Grassroots Action: Funding and planning spontaneous protests
Guns: How to define them so we can finally ban them
Marching for Justice: Holding the patriarchy accountable for things they haven't even done yet
Stopping Hate Speech: How to use the military and police to get fascist white heterosexual males to shut the f*** up
Hashtag Advocacy: Effective propaganda messaging campaigns in the social media age
Diversity: How to make society more inclusive by dividing people into ever-smaller groups
Fundamental Principles of Journalism, Part One: Maintaining The Narrative™ through selective use of poll results and statistics
Fundamental Principles of Journalism, Part Two: How to turn isolated incidents into representative examples of widespread intolerance/injustice
Shaping Electoral Majorities: Proliferating racial and ethnic categories to make every American a minority of one
Campaign Management: How to rig primaries and debates without getting caught
It is believed that with these
mandatory
suggested re-education courses, outer party members will be armed with the tools to provide deplorable proles with goodfacts and to combat the cancerous spread of
real
alternative facts.

Papa Kalashnikook

Oy Vey! Times are tough at the DNC. An excellent synopsis of the problems at hand for the Democrat alt-fascists. With Socrates -on-the Potomac aka Uncle Fester aka Joe Biden gone, things are bleak. It may be left to Obi Wan Nairobi to save Earth. As usual, there's only one place to begin.

Captain Craptek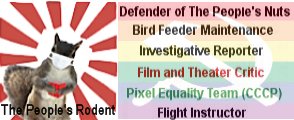 At least they had the foresight to keep the riffraff away from the real meeting.
"On Wednesday evening, Sen. Brian Schatz (D-Hawaii)

led a wine and cheese reception

, then Democrats went to a presentation about Harper's Ferry called "September Suspense: Lincoln's Union in Peril.

Democrats did not allow reporters to attend.

"

RedDiaperette

Imperatorskiy Pingvin
The Constitution: How to kill a living document
Comrade, is not "kill" a harsh word for the
abortion
termination of the document? Perhaps there can be a more positive term ... say, "laying to rest"? Or "defusing"? Or perhaps our ever-successful-in-academia "deconstructing"? All under the rubric of Constitutional Health, brought to the kollective by Planned Constitutionality?

RedDiaperette

Since posting the above, I have been thinking getting in touch with my feelings about this Constitution document, and I believe feel that we do not want it to die but to continue living and growing and being carefully shaped toward The Good -- much like bonsai or topiary. (Can a photoshop-gifted comrade perhaps create an image of a bonsai or topiary Constitution?)

So I now propose that we adjust the bullet point to something like "How to prune and trellis-train the Constitution." And I further propose that a new bureau be created to monitor this ongoing development: the Department of Constitutional Health (DCH). Later, when it reaches Cabinet status, engulfing two or three other bureaus in the process, it can be renamed the Department Of Unified Constitutional Health Efforts (DOUCHE).

As always, I selflessly volunteer to establish and staff this bureau, with the assistance of my cronies friends and my sisters and my cousins and my aunts.


Imperatorskiy Pingvin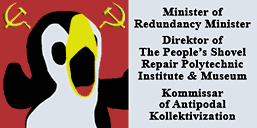 Comrade Diaperette, those are all wonderful, doubleplusgood suggestions. According to DNC Executive Order No. 6, all suggestions for improvements to party doctrine
must
be submitted, notorized and in quintuplicate, using Form 437–R2; just cross out where it says 'assault-weapon ban' and write in 'suggestion'. Your completed forms can be sent to the following address:
The Democratic National Committee
Public Relations Office (PUBRELOFF)
Room 101
430 South Capitol Street Southeast
Sodom-on-Potomac 20003
All submissions must also include proof of party membership and a
mandatory
suggested $1,000
processing fee
donation to the party's general fund.
Alternatively, you can await your appointment to the inner party and the next general or emergency conference.

Papa Kalashnikook

Special reminder. The steering committee on immigration policy for the DNC, Citizens sans Frontiéres, will be meeting before the meeting.


Komrade Winston Churchillski

Our brave French komrades in glorious EUSSR are learning from the mistakes of their "British" remoaner traitor freedom fighters , no "We are not French ,We are European" banners ,(as the foolish "British" remoaners flew ) .No they fool the racist/nazi/fascists by flying not only the stinking glorious EUSSR flag but the Tricolour too ,by doing this it appears that they believe the long awaited feared Frexit will be prevented .
If only our "British" komrades had realised that shouting "racist/nazi/fascist" at anyone carrying (or near) a British Union flag ,would be taken as offensive or traitorous & push the British people towards voting for Brexit ,I'm sure they wouldn't have done it.

[progoff]
I saw a clip of the pro EU camp flying both flags on the news this morning ,but can't seem to find a photo online of it .


Papa Kalashnikook

Oh, one last thing. John Lewis has lost his dementia meds again, if found PLEASE return them to John or his wife.