ratskins

Needle Bay Studios announced today that after an extensive search the lead role of Coraline's "other mother" has been cast.
"We felt that not only was the physical resemblence uncanny, but Nancy Pelosi's natural ability to metamorphose from a normal appearing matron to a menacing arachnid was a strong deciding factor," indicated a company spokesperson.
Storyboard sketches and costumed test photos below confirmed the wisdom of the inspired casting choice.

Captain Craptek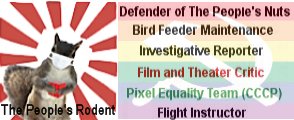 I'm OK -


jackalopelipsky

It's all Trump's fault Pelosi is having to even think about starting a new acting career.


Papa Kalashnikook