Nomenklatura-climber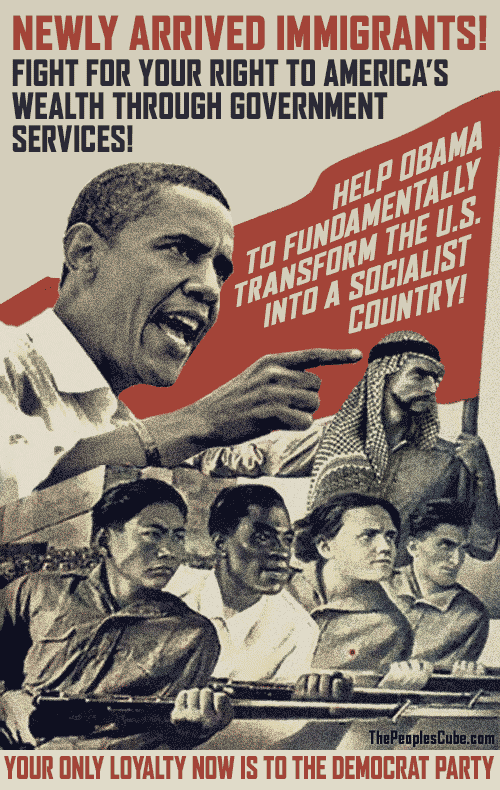 Dear Comrades,
Through successive administrations of Party Chairmen, from James Earlovich Carter to Barack Barackovich Obama, our central government of the USSA has successfully implemented indoctrination programs designed to attract new immigrants in search of internationalism and wealth redistribution rather than retrogressive concepts such as capitalism and nationalism.
From
welfare advertisements run in Mexico
to the elimination of patriotic teachings in American schools (except when the Party specifies it is acceptable as a reward for compliant behavior from the masses), we have now succeeded in ensuring that new immigrants to the USSA
will not hold any other loyalties
than to our Democratic Socialist Party, which provides the benefits and necessities that the new workers and peasants from around the world have come to expect and demand of America.
Comrades, we are now seeing more and more immigrants, like the heroic Tsarnaev Brothers, who are willing to stand up for their oppressed brethren abroad while also fulfilling their patriotic duty of
full participation in wealth redistributions
.
Yes, we can all be proud that government support for the Tsarnaev family allowed Tamarlan Tsarnaev to travel to Dagestan for the training he needed to engage in his recent political protest activity at a bourgeois 'marathon.'
New citizens are now more internationalist in mentality, which is one of the goals of the Party as we move towards World Socialism and the tearing down of Capitalist boundaries that separate the Proletariat for their oppression and domination. As we know, most other nations have a more progressive outlook on socialism and state management of personal welfare. We need to catch up, and our new citizens are here to help.
Many immigrants are now arriving in America with no interest in adopting bourgeois attitudes like 'personal responsibility' or 'achievement.' They are more interested in perpetuating their socialist political attitudes in a new environment while benefiting from the redistribution of world wealth which has been hoarded in the USSA for the past 70 years.
It is our patriotic duty to reject bourgeois patriotism and to display our true socialist, international patriotism, with allegiance only to the Party that protects and guides the People!
Teach immigrants to hate the bourgeoisie and individualism!
Demonstrate your patriotic embrace of socialist internationalism!
Faithfully submitted to the Collective of the People's Cube,
Comrade Nomenklatura-climber
Dialectical Progressivism Translator

Red Square

Newly arrived immigrants!
Fight for your right to america's wealth through government services!
Help Obama to fundamentally transform the U.S. into a socialist country!
Your only loyalty now is to the Democrat Party!


Red Walrus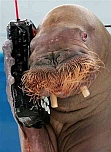 We demand OPEN BORDERS. Defeat evil Republicans. Get Nancy back in there so we can achieve our dream. Only when The House falls back into our hands may we finally see the fruits of our labor . . . all going straight to The Federal Collective.

FORWARD COMRADES


Anyer Marx


Jíbaro

Wow, so the mobs of thousands waving Mexican Flags and demanding to be made American Citizens, are merely '

INTЭЯNAZIONALISTS

'?

Who knew?



Captain Craptek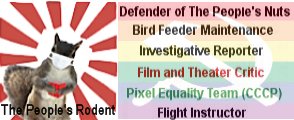 Commander Obama has led the way. He is, after all, known as a "Citizen of the World" - is he not? Doesn't this mean that all men and womyn are Citizens of the World, and by extension, Citizens of the USSA? Yes! Of course it does! Now, all together;
"We are the world,
we are the children,
we are the ones
who make a brighter day,
so let's start giving".
All peoples of Earth join hands and sing along! Oh, joyous New World!
(now, to the fields)

ThePeoplesComrade

Immigrant / government partnership.