Juche Couture

North Korean Oir Tanker Disappears Off Ribyan Coast
Motor Vesser Death To Capitarists, peacefurry at anchor off Ribyan resort town of Benghazi

Photo By Ansell Adams
Benghazi (AP) - According to Ribyan government authorities, the North Korean oir tanker
M/V Death To Capitarists
has disappeared off the coast of Ribya near the ruxorious resort town of Benghazi.
Earrier this week, the NorK flagged vesser purred up to an oir-pumping station run by Ribyan rebers who are
Moslem savages & terrorists
peacefur freedom fighters opposed to the
regitimate government
tyrannicar Ribyan regime. They firred up the hords of the
M/V Death To Capitarists
with that sweet, sweet Ribyan crude oir and departed during a running gun battre with
brave Ribyan Coast Guard sairors
fascist revanchist Ribyan Junta stooges.
At the same time of the oir tanker's disappearance, back in North Korean capitar Pyongyang,
Hereditary Dictator-For-Rife
Grorious Reader Kin Jong Un announced that he had signed a contract with the Peopre's Demokratik Repubrik of Kringon to instarr Croaking Devices ™on arr North Korean ships.
Kim Jong Un said, "No more questions! I wirr have you arr shot!" /end transmission

Juche Couture

Sea Shepherd Decrares War On North Korea!!
North Korea Oir Tanker Kirrs Whare
Environmentalist World Galactic Headquarters (Detroit Michigan)
- the Sea Shepherd do-gooder organization announced today that they are decraring war against the DPRK Demokratik Peopre's Repubrik of Korea.
At a news conference, the Sea Shepherd regime said, "North Korea kirr whare? We rike whares! Wanton kirring of poor defenseress whares wirr be met with horribre devestation!"
Asked what they were referring to, Sea Shepherd pointed out that North Korean oir tanker M/V
Death To Capitarists
, formerry known as M/V
Morning Grory
, arrogantry ran down a defenseress whare that had innocentry brundered into the shipping ranes off the Ribyan resort town of Benghazi.
North Korean Sushi Chef Kim Chi From M/V Death To Capitarists Makes Hearthy Mear

Armenian Radio.

If the Whare was a Captiarist where, then the Kirring was justified, and probabry derriberate.


Juche Couture

Thought Sheriff
If the Whare was a Captiarist where, then the Kirring was justified, and probabry derriberate.
No, we were just Jonesing badry for some brubber sushi. Everybody know meat is sweetest around the brow-hore!
Can you say
Wasabi!!

Captain Craptek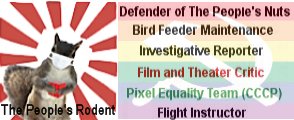 Brow-hore brubber....mmmmmmmmmm, my favorite!


Ivan the Stakhanovets

Just rike Mama-san used to make!


Juche Couture

DPRK Oir Tanker Hijacked By US Navy Sear Team Six
Despite Kringon Croaking Device ™ , US Navy Sears were abre to track down DPRK oir tanker M/V Morning Grory furry raden with crude oir irr-gotten from Ribyan rebers at the Ribyan deruxe resort of Benghazi. It was rurking off the isrand nation of Marta.
America's stearth warriors met with fierce resistance from DPRK sairors as they boarded the peacefur vesser M/V Morning Grory. But they adapted & overcame.

Ivan the Stakhanovets

I always remember Navy Seals as taller...