Captain Craptek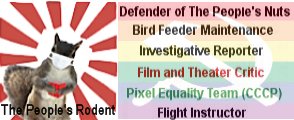 The perky MSNBC hostess Alex Wagner may have leaned forward a bit too far back in April of 2013. In a rare moment of honesty, Ms. Wagner joined Kenneth Roth, executive director of Human Rights Watch, to discuss the Obama administration's failures on human rights issues and the wider repercussions. When
video tape evidence
of Wagner's transgression surfaced, the White House responded, albeit belatedly. A churlish White House spokes-mouth boasted,
"As you will see later this weekend, all is forgiven."
And why is
President Barack Obama
flying back to New York Saturday morning?
[indentr]
"The White House says Obama has changed his plans for Friday and will return to Washington late in the evening after fundraisers in Rhode Island and New York. He had planned to spend the night in New York. Presidential aides say the change in plans was not related to any current events and was the president's personal choice."

"Obama will spend Saturday morning in Washington, then return to New York later in the day for the wedding of his personal chef Sam Kass and MSNBC host Alex Wagner."
[/indentr]
The shuttle-diplomacy-like back and forth flights, motorcades, fund-raiser events, and wedding parties has Dear Leader's SS (Secret Service) scrambling just to keep up. The president's personal Air Force is on permanent 24/7 standby alert. Emergency flight crews, maintenance personnel, flight attendants, a fleet of support aircraft, and a few dutiful umbrella carriers from around the US have been called to active duty.
[indentr]
"I promised Alex I'd attend her wedding, and I'm a man of my word." stated the president emphatically. "I'll take care of the Islamic State terrorist threat and Russian invasion of Ukraine first thing Monday morning!"
[/indentr]
Craptek NEWS Real Reporter update -NOW IT'S OFFICIAL:
President Obama, his family, a few hundred body guards, 14 support aircraft, standby crew members, 2 Coast Guard patrol vessels, 37 armored limos, the president's personal tailor, and 2 umbrella carriers traveled to New York Saturday night for the wedding of White House chef Sam Kass to MSNBC personality Alex Wagner.
The first wave of aircraft, ships, and body guards made landfall near the wedding venue in Pocantico Hills, N.Y. shortly after 7 p.m. The villagers had been evacuated earlier for their safety. No word yet on when the celebration will end - if ever - but MSNBC executives have issued a press release proclaiming Obama the new
Director of News
at their N.Y. headquarters.