Mrs. Red Square

Quote:
"If I had a son..."
~ Barack Obama
There has been a
contest
and these are the runner-ups.
20 best booking photos

Great Stalin's Ghost

Oops, due to shameless shenanigans from right-wing wreckers, you missed one:

ThePeoplesComrade

The Obama administration is eminently fair and consistent in handling controversy. If I had a son he would look like Jenna Talackova.
The Reverend Al Sharpton is outraged, calling Jenna a "Pussy Ass Cracker".

Comrade Putout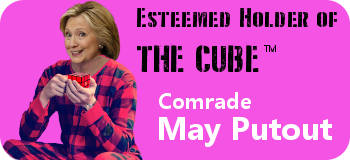 Lyman DeKoquonut

Just because your dad is elected president does not mean that you should have to be drug into every dispute by the media and politicians. If you have a dad that puts himself before anything and anyone, he will drag you out himself.

Someone going broke trying to stay stocked on birth control and someone getting shot and killed are perfect times to do this.

We progs know how to love our children.